There's a good reason why Niacinamide has become a cult ingredient in the skincare world. It is quite commonly considered the holy-grail solution to an array of common skin issues- ones that can be exacerbated by the external factors of living in the city.
THE COMPLETE GUIDE TO NIACINAMIDE IN YOUR SKINCARE ROUTINE

There's a good reason why Niacinamide has become a cult ingredient in the skincare world. It is quite commonly considered the holy-grail solution to an array of common skin issues- ones that can be exacerbated by the external factors of living in the city.
This is where Niacinamide comes in; a powerhouse ingredient which plays an important role in cell repair and protecting cells from damage.

What is Niacinamide and What Does it Exactly Do?
Niacinamide is a water-soluble and multi-functional derivative of Vitamin B3, which is one of the most potent anti-inflammatories in skincare. It has been shown to regulate oil secretion, reduce redness, brighten skin tone, reduce inflammation and oxidative stress, fight free radicals, and repair the skin barrier.
Niacinamide is also able to minimise the appearance of pores, fade pigmentation, reduce the appearance of fine lines and wrinkles, and help the skin maintain an optimal level of hydration. The list of benefits is impressive and that's why we can't recommend it enough to start incorporating into your skin routine no matter your skin type.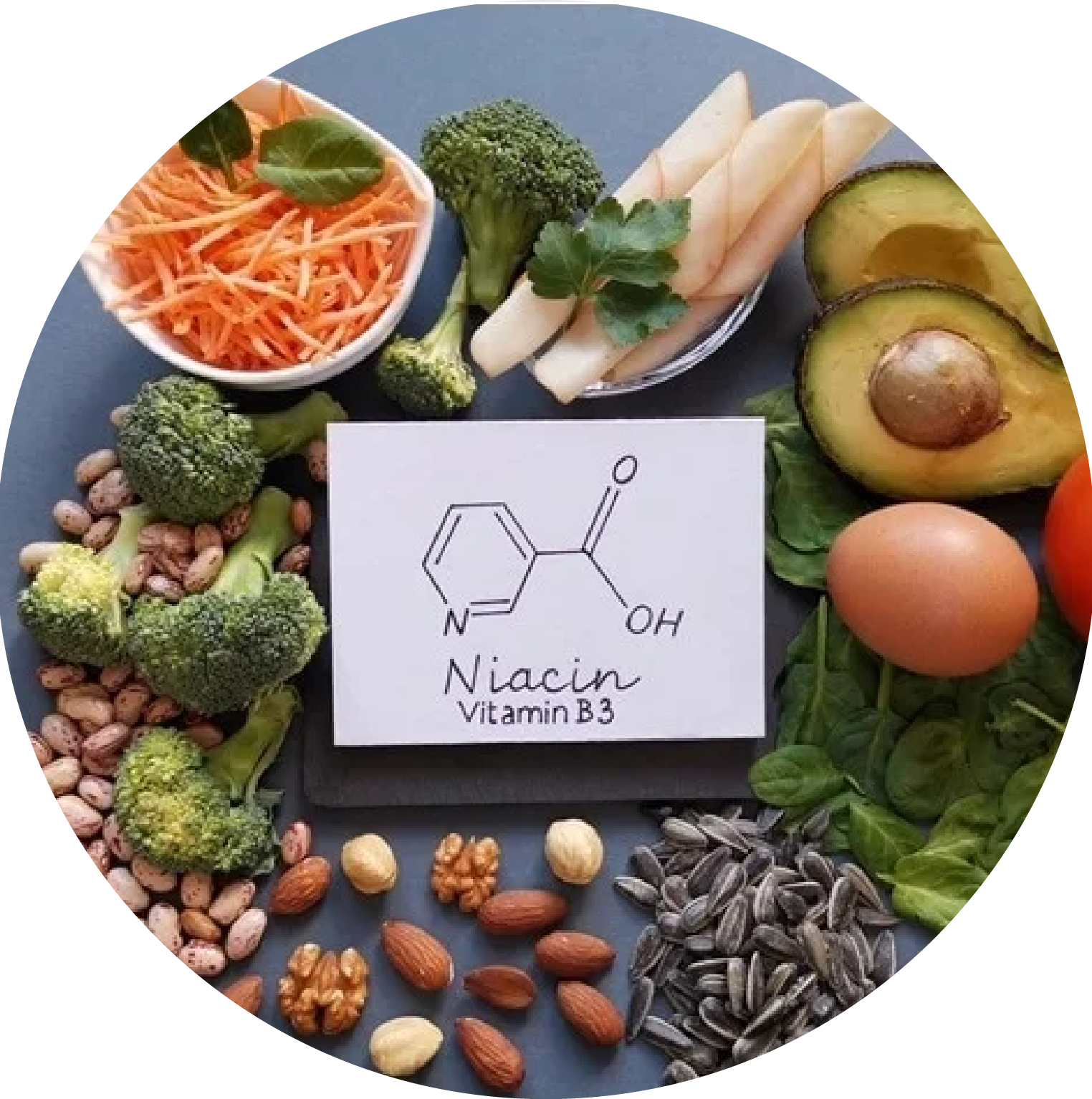 A Snapshot of Niacinamide
- Helps mitigate the negative effects of environmental stressors
- Strengthens skin barrier
- Helps maintain optimal levels of hydration in the skin
- Reduces enlarged pores
- Improves dull or uneven skin tone
- Fades pigmentation
- Remains stable in the presence of heat and light
- Has anti-ageing properties
- Improves skin texture
- Brightens skin
- Has soothing and healing properties
- Prompts production of collagen and hyaluronic acid

Meet the Niacinamide Heroes at Embassy of Beauty
Niacinamide is the ultimate multitasker skincare ingredient that is compatible with many other actives, so it's always the perfect time to incorporate it into your skincare routine, making it the perfect addition to achieving brighter and smoother skin.
Let's deep-dive into a few of the most popular Embassy of Beauty products which incorporate Niacinamide and boast impressive results:
Definitive Enzyme Cleanser
Auteur
The rejuvenating powder-form cleanser boasts a cocktail of Vitamin C Compound, Niacinamide, and Citric Acid to tighten pores, reduce the appearance of fine lines and wrinkles, and diminish pigmentation. While cleansers don't get a lot of credit for their active- ingredient benefits, they are an essential first step for those with skincare concerns such as acne, pigmentation, dull skin, and a compromised skin barrier.
By helping to reduce excess sebum production, this Niacinamide-rich cleanser keeps clogged pores at bay. Turning into a soft paste when in contact with water, the Definitive Enzyme Cleanser removes impurities and restores radiance to the skin for an incredibly effective cleansing routine
A novel serum loaded with over 40 active ingredients; Composition No.1 is a specialised overnight treatment that works to amplify your skin's own regenerative process.
The cream textured serum is a luxurious addition to your evening skincare routine for replenished oxygen levels within the skin, increased skin firmness and density, lifted and firmed skin, reduction of wrinkles and fine lines, improvement of skin tone and texture, and increase of collagen formation in the skin.
The serum incorporates Niacinamide with an incredible range of active ingredients, such as Lactic Acid, Hyaluronic complex, and golden collagenine amongst many others to refresh, recharge and reset stressed skin. For a serum that does it all in one bottle, Composition No.1 by Auteur is the perfect answer.
Sérum Eythros
BIOLOGIQUE RECHERCHE
The perfect companion for irritated and Rosacea-affected skin, Sérum Erythos visibly reduces redness, protects the skin against inflammation, and soothes the skin with the help of Niacinamide as one of the main ingredients, along with Red Algae Extract, and White Tea Leaf.
Light in texture and a wonderful accompaniment to the Masque Biosensible, it is the ultimate addition to any skincare routine that has been created to relieve Rosacea and inhibit the formation of new blood vessels from forming and rising to the surface of the skin, creating a red flush effect.
For sensitive skin types looking to regulate oil secretion, treat hyperpigmentation, minimise fine lines and wrinkles and reduce redness, Sérum Erythos is the go-to product that does it all without compromising the skin's barrier and irritating the skin further.
Lotion P50 PIGM 400
BIOLOGIQUE RECHERCHE
Staying true to the internationally recognised statement of being a facial in a bottle, the Lotion P50 PIGM 400 combines Niacinamide with lactic acid and mandelic acid amongst others to combat pigmentation and prevent its formation.
A toner that does it all, it strengthens the skin, balances the skin's PH, removes dead cells and impurities, as the Niacinamide works to reduce and prevent pigmentation and inhibit melanin synthesis, along with purifying and regulating the sebum. The clear water-based lotion is an incredible addition to any skincare routine looking to diminish existing pigmentation and prevent any future formations.
Easy to use and incorporate into your self-care time, apply a few drops (for the first two weeks on a dampened cotton pad) and press and release, patting the product over the face, neck and décolleté.

How Does Niacinamide Boast So Many Benefits?
Not only does Niacinamide have powerful antioxidant properties, but it is also a 'cell-communicating' ingredient that works in tandem with other active ingredients to generate important substances for the skin.
As the segue ingredient that communicates with a wide array of cells to bring out the best in them, it is also an ingredient that is able to penetrate the skin well.
To support the skin's overall health, pair the Niacinamide in your skincare routine with products that incorporate peptides, ceramides, and hyaluronic acid, which all help to build the skin's barrier and promote overall healthy skin benefits.
TIP
Whether you choose a leave-in or rinse- off product with Niacinamide, always follow up with a sunscreen during the day as Niacinamide can make your skin more sensitive to sunlight.
For a silicone-free sunscreen that protects the skin from daily environmental aggressors, Ayuna's Velo is the perfect addition to any skincare routine for a velvety finish on the skin. With an 6-in-1 protection that treats, hydrates, protects, evens skin tones, beautifies and brightens, Velo is a sophisticated, multi-functional day cream that leaves the skin protected all day long.
FOLLOW OUR INSTAGRAM FOR MORE CONTENT