Natalie's favourite travel picks that she never fails to take with her on holiday: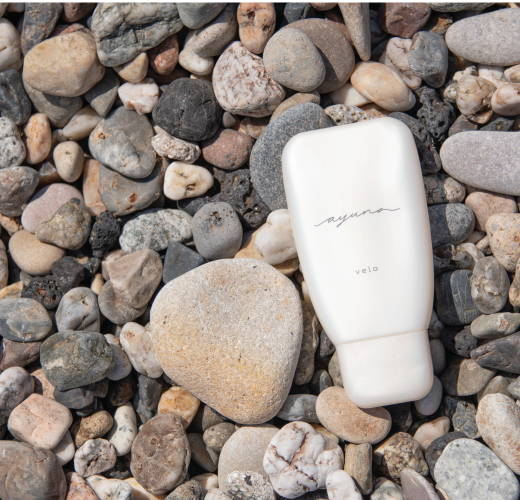 In the spirit of the summer season, planning a getaway to an exotic country is a dream for many. The allure of sandy beaches, crystal-clear waters, and warm sunshine has us all yearning for the perfect holiday destination. We start searching for countries with the best weather, daydreaming about lounging under the sun, taking refreshing dips in the sea, indulging on delicious food, and sipping on great wine/cocktails.
However, amidst the excitement of planning a holiday, we often overlook the inevitable stress of last-minute packing. Deciding what to bring and what to leave behind is a daunting task. Among the many considerations, one important aspect that tends to be overlooked is the selection of cosmetics and skincare products. With countless options available, it becomes challenging to pick the perfect routine to take along on the journey.
When it comes to summer vacation, protecting the skin becomes an absolute necessity, particularly in hot weather with prolonged exposure to UVA/UVB rays. While we enthusiastically plan for the perfect tan, we must also prioritise overall skin health. Amidst the holiday prep, it's easy to forget or become overwhelmed about which products ensure both protection and enhancement of our tan.
Enter Natalie, an avid lover of holidays and all things relating to achieving that beautiful tan. With her extensive experience, she's the perfect candidate to guide us through the essentials and curate a comprehensive list of travel musts for a radiant glow. Here are her favourite travel picks that she never fails to take with her on holiday:

LAIT VIP 02
One of the most crucial steps in any skincare routine, and incidentally, one of Natalie's all-time favourites, is a beautiful hydrating milk cleanser. This essential product serves as the foundation of a healthy skincare routine, especially during your long-awaited summer vacation. Not only does it remove daily pollutants and impurities from the skin, but it also plays a vital role in oxygenating the skin to promote a bright and youthful complexion.
What sets this milk cleanser apart is its effective formulation that doesn't disrupt the essential skin barrier. Unlike other harsh cleansers which can strip the skin of its natural oils, Lait VIP 02 works in harmony with the skin's lipidic shield, maintaining its integrity while providing a thorough cleanse. By preserving the skin's natural barrier, it ensures the skin's hydration levels are balanced, preventing excessive dehydration, which is especially crucial in hot and dry weather.
Lait VIP 02
Biologique Recherche


SERUM COLOSTRUM VG
One of Natalie's absolute go-to-serums during her vacations is a nourishing and hydrating elixir that delivers the perfect balance of both water and oil to the skin. It provides intense hydration and locks it in for lasting results. With its thick and milky texture that feels indulgent and comforting to the skin. This serum's richness is a key factor in improving the skin's barrier functions, something of great importance after long days spent under the sun or in salty sea air. After an adventurous day to the beach, the skin can often feel tight and in need of relief, this is where this nourishing serum's carefully selected ingredients help to work alongside the skin in releasing tension, soothing discomfort, and helping to prevent the appearance of dehydration lines – a perfect addition to any nighttime routine.
Serum Colostrum VG
Biologique Recherche
RENEWING SERUM
This hydrating serum is a true powerhouse, comprising three different forms and molecular weights of hyaluronic acid at a potent 4%. With its reparative properties, the serum is packed with essential amino acids, cell-stimulating growth factors and micronutrients, working in harmony to intensively repair and moisturise the skin. This potent combination of ingredients not only ensures the skin stays perfectly hydrated but also allows the skin cells to maximise their tan capacity, as damage is already in its reparative state. The result is not only a beautiful tan but also a plump and radiant skin. As the serum deeply repairs and nourishes the skin, it creates the optimal environment for the skin cells to functions. The skin's reparative state also counteracts any potential damage from sun exposure, providing an added layer of protection during those long summer days spent outdoors. Ultimately this serum has become an essential part of Natalie's vacation routine to ensure her skin is glowing and perfectly hydrated.

CREME HYDRAVIT'S
This instantaneous pick-me-up is a phenomenal addition to comfort and brighten stressed skins. As we all know, our skin reflects our overall well-being and sometimes our busy lives can take a toll on its radiance. This innovative formula helps to energise the skin and revive its natural glow, making the skin refreshed and glowing even on our most exhausting days.
Now you'd think that doesn't often happen on holiday as we are refreshed and well rested the whole time. However, after spending days lounging on the beach, soaking up the sun, our skin can also take a toll. As the sun kisses our skin, it can lead to dullness and an increased level of dead cells which can build up, leaving the skin look lacklustre. Using Golden Seaweed extract, rich in antioxidants and Sea Buckthorn Berry Extract, this light cream mimics a healthy hydro-lipidic film helps to restore and intensely moisturise the skin. Making your tan and skin ultimately more radiant in a second!
Creme Hydravit'S
Biologique Recherche

VELO
Nothing beats Sun protection than 6 lots of protection within one product. This explains why it's Natalie's quick pick for an SPF. With its 6-in-1 protection, it's a dream to take on holiday with you. Boasting an Anti-Pollutant barrier, Antioxidant barrier, Lipidic barrier, Postbiotic barrier, Light barrier and Water barrier, the only barrier you want to hear about for the next 2 weeks after this is the Great Barrier Reef! Using a blend of organic botanical ingredients to create this beautiful protective formulation, skin will look and feel soft like velvet. The last thing you want is to burn, protected skin will be less likely to burn which means a much deeper and richer tan.

EMULSION CORPS VIP 02
Last, but not least, Natalie's ultimate beach addition. This silky, lightweight spray-on body cream oxygenates the skin, protects it against daily aggressors (UV Radiation being the most prevalent) and harsh weather conditions. Packed full of antioxidants, Hyaluronic acid, and BR's Oxygenating complex, it helps to leave skin glowing, dull-free, and silky smooth. Because of its deeply reparative properties, skin is strengthened, and tans are enhanced! What more could you want from a body cream? A Pina Colada? Ok, maybe there is more.
Emulsion Corps VIP 02
Biologique Recherche
As you embark on your journey to find the perfect holiday destination, rest assured that your skincare routines are well taken care of with the phenomenal tan preserving, pick-me-up routine we've introduced you to. With your skin revitalised and glowing, you can confidently step into your holiday knowing your skin will be well protected, with a radiant glow and rejuvenated appearance. However, as you venture into the excitement of planning and preparing for your well-deserved break, we would like to offer a friendly reminder: don't leave packing to the last minute, we've told you what to pack but not how to pack!
Have a great holiday from all of us here at Embassy of Beauty
FOLLOW OUR INSTAGRAM FOR MORE CONTENT