Throughout the year, we put so much effort into our facial routine – we soothe, nourish, hydrate and do everything we can look and feel our very best. But our limbs? Well, they rarely get a look in.
Even those of us who experienced a taste of glorious winter sun have realised that we have since returned to colder climes and encapsulated our bodies in the layers necessary to survive the recent British weather, and so our sun-kissed feeling of blissful abandon is a thing of the distant past.
In the meantime, the obligatory British heatwave is suddenly upon us, and as we fire up the BBQ, reach for our summer hat, silk palazzo trousers, enviable wedges and ramp up the air conditioning, we wonder why we didn't start prepping those body products much earlier to achieve silky skin!
In this week's edition of the e-mag, we have two very simple steps to help you achieve your silky summer body.
You wouldn't try to run a marathon without training, and in the same way we should prepare our dry skin for the brightening boost that comes with the Summer months.
The body's skin structure is similar to that of the face, but its thickness varies a great deal. With the exception of the back and the décolleté, the body has fewer sebaceous glands than the face so is more sensitive to dryness. This leaves our skin feeling dull, rough and patchy – so we need to dedicate time to exfoliation.
Once we exfoliate, the skin appears more radiant, our tan will be uniform, the skin is more resistant to damage, and we avoid ingrown hairs.
Exfoliation consists of eliminating the outer layers of the skin, promoting cell renewal and enabling the products you use to penetrate your skin much more effectively. Even the best body moisturiser and dry skin treatment can't work quite as well without some preparation to give it a helping hand.
All of the same elements that impact on our facial skin - sunshine, pollution, changes in temperature – affect our bodies too.
There are two ways to exfoliate the skin:
Chemical exfoliators use chemical agents with a high concentration of active ingredients (e.g. fruit acids). Chemical exfoliants are super easy to use, as you don't need to scrub!
They gently remove the superficial cells from the body's upper layer and contain acids to leave your skin smooth as silk.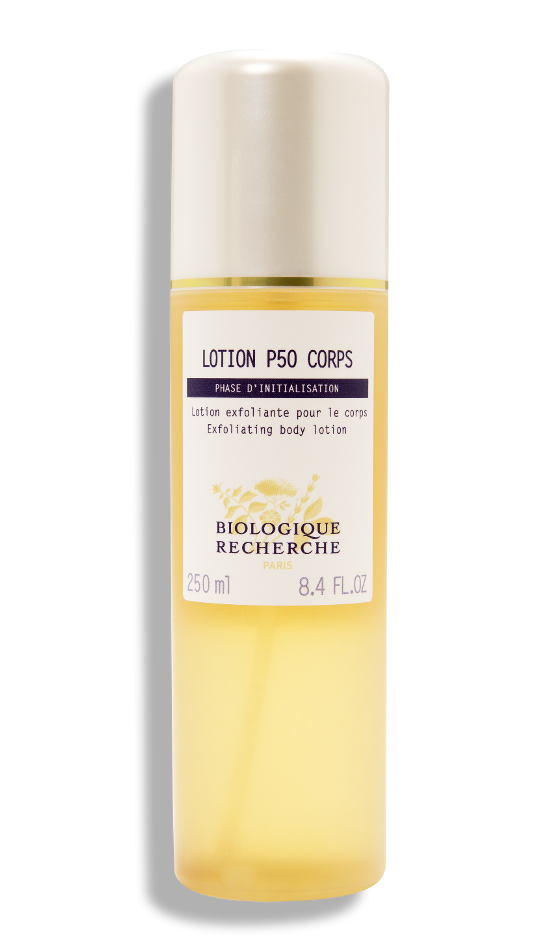 SHOP HERE
The Biologique Recherche Lotion P50 Corps is packed with AHAs, PHAs and Vitamin PP to instantly remove dead skin cells and stimulate the skin. Spritz the scintillatingly energising Lotion P50 Corps on the body for an instantly rewarding body boost.
For more effective exfoliation, team it with the Biologique Recherche Body Glove!
2. Mechanical exfoliation
Manual exfoliants use beads (or pellets) which roll over the skin to eliminate dead cells. They involve a certain amount of scrubbing, which can be a little tedious.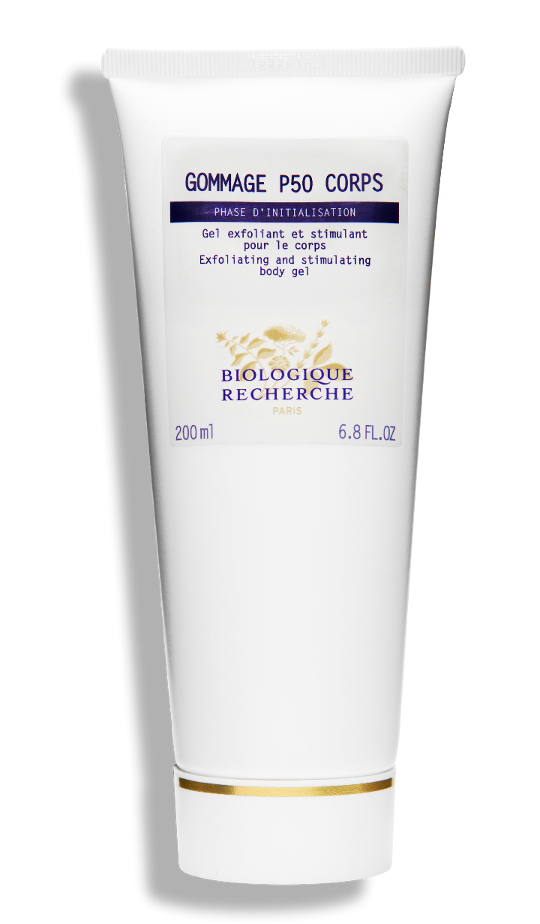 SHOP HERE
The clever scientists at Biologique Recherche decided to help us along the way by creating the Gommage P50 corps, which is a chemical exfoliant infused with cockleshell to give you a manual scrub to support the chemical exfoliation for those that just can't do without those beads.
We advise you to exfoliate before bed rather than in the morning, as you'll want to avoid exposing your body to the sun straight afterwards.
Now that we've achieved silky smooth skin that we just can't resist touching, let's hydrate and get that glow to our lovely limbs. What's more, adding a veil of hydration to our skin will protect our skin – now that's just what we need!
Do you get fed up of trying to rub in thick, buttery creams that seem to take hours to vigorously rub in and leave a veil on your skin? Do you give up and find yourself left with swirls of ashy cream as you potter around the house?
That's why at EB, we opt for a thin veil of hydration and protection. We adore the Emulsion Corps VIP02 – it's the body moisturiser from the anti-pollution VIP 02 range.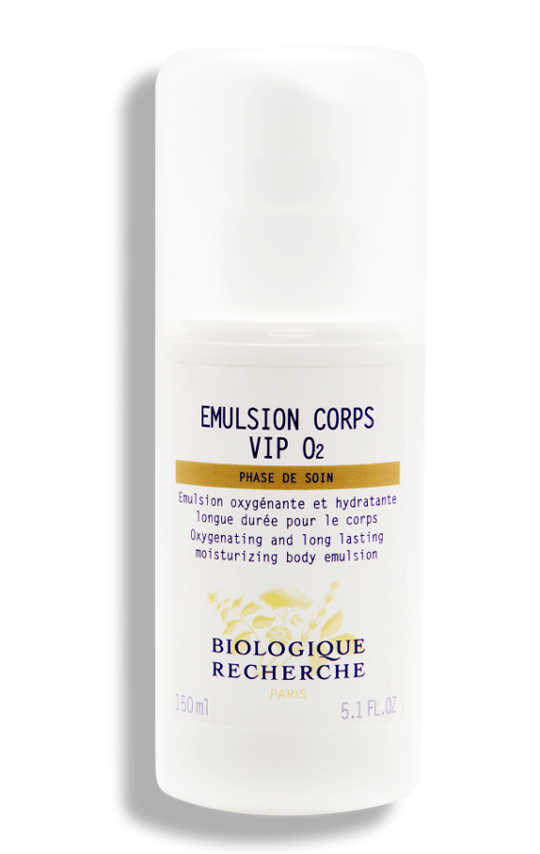 SHOP HERE
It's super light and comes in a spray, so it's nice and easy to spritz on. It also has calming properties to soothe and comfort the body, as well as oxygenating ingredients and antioxidants to fight against free radicals and combat premature skin ageing. It's particularly perfect for city dwellers who are surrounded by pollution – so top up before you head out this weekend!
For those of us that prefer a cream to a spray but still want something light, the Emulsion Originelle Regenerante Corps packs a (light) punch. It is packed with brazil nut oil to nourish, hyaluronic acid and colostrum to moisturise, and vitamins E and F to protect and restore the skin – restoring softness and vitality.
We've not overlooked the fact that there are other Summer skin dilemmas that we want to tackle over the warmer months – including cellulite and stretch marks. Fear not, the next edition of the EB mag will tackle all of these concerns, but if you can't wait until then, have a peruse of our body care edit.
Now we've exfoliated and hydrated our bodies we are ready to enjoy the Summer months with the confidence that our pins are well and truly ready for the sunshine. Now pour yourself a glass of something chilled, grab your sunhat and have a jolly good time in the sun!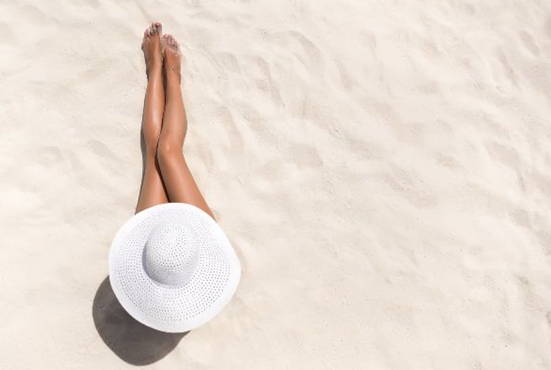 We always love to hear from you, so if you want to discuss your regime with us, please call us on 020 3358 9998 or email us at concierge@embassyofbeauty.co.uk.
with love from the eb team x