"Let's get it on ...."al green's tunes swirl in my head every valentines'. the words, the voice, the tone, i adore it!
There is a great rift at this time of year, between those who adore Valentine's, and those who simply don't! Either way, it's always comforting and powerful to feel sexy, whether you do it for yourself, or for another.
Let's get going!
Tips for a Smooth and Relentlessly Touchable Body
There is no better feeling than freshly waxed, shaved or de-haired legs, the skin is so smooth that I can't stop caressing them, and that's exactly what we're wanting for Valentine's, except, it would be nicer if someone else were caressing them of course!
Step 1: De-Fuzz
Whichever method you prefer, whether it be waxing, shaving, sugaring, lasering …. get hairless basically.
Step 2: Prevent Bumpy Skin
After hair removal, some of us experience "Bumpy Skin". This is usually caused by ingrown hairs or hairs that haven't been removed completely. Many of us use sugar scrubs or salt scrubs to smooth our skin. Although they feel almost instantly gratifying, the issue here is that they are usually too abrasive or not abrasive enough, resulting in an irritated and red skin or not yielding any results at all.
I always recommend the Lotion P50 Corps to my clients, as it's so simple to use, gets into every nook and cranny, isn't irritating at all, and is extremely effective. Giving you the magic of smooth skin without all the manual labour of scrubbing, the Lotion P50 Corps will address everything from those little bumps on your upper arms, to ingrown hairs, and even back acne.
Step 3: Hydrate Your Skin
Our bodies are now hair-less and bump-less, now we need to make them smooth to the touch! Depending on how dry our body skin can get, it can range from ashy to flaky, to scaly, to simply dull! Either way … we don't want it!
Many of us use thick creams and apply it well in advance, hoping that by the time we're ready to be romantic, the cream will have absorbed int our skin. The issue is that most of us simply don't need such thick creams on our bodies. I like to think of it this way; in the winter I tend to use hydrating masks on my face a lot more, as my skin is drier, but I don't use richer creams as I know I would break out. Of course, the skin on our bodies is different to that on our faces, but if you feel like you need a really rich boost from time to time, keep that thick cream in the cabinet and pull it out once a month to "mask" your body for a day, but you don't need to mask on a daily or even weekly basis. I mostly recommend thinner hydrating emulsions as a daily application on the body, and my absolute favourite is the Emulsion Corps VIP02. It's silky, it's light, it's fast absorbing, it's effective and it leaves you with a very slight veil of a glide on your skin, as opposed to a greasy slip.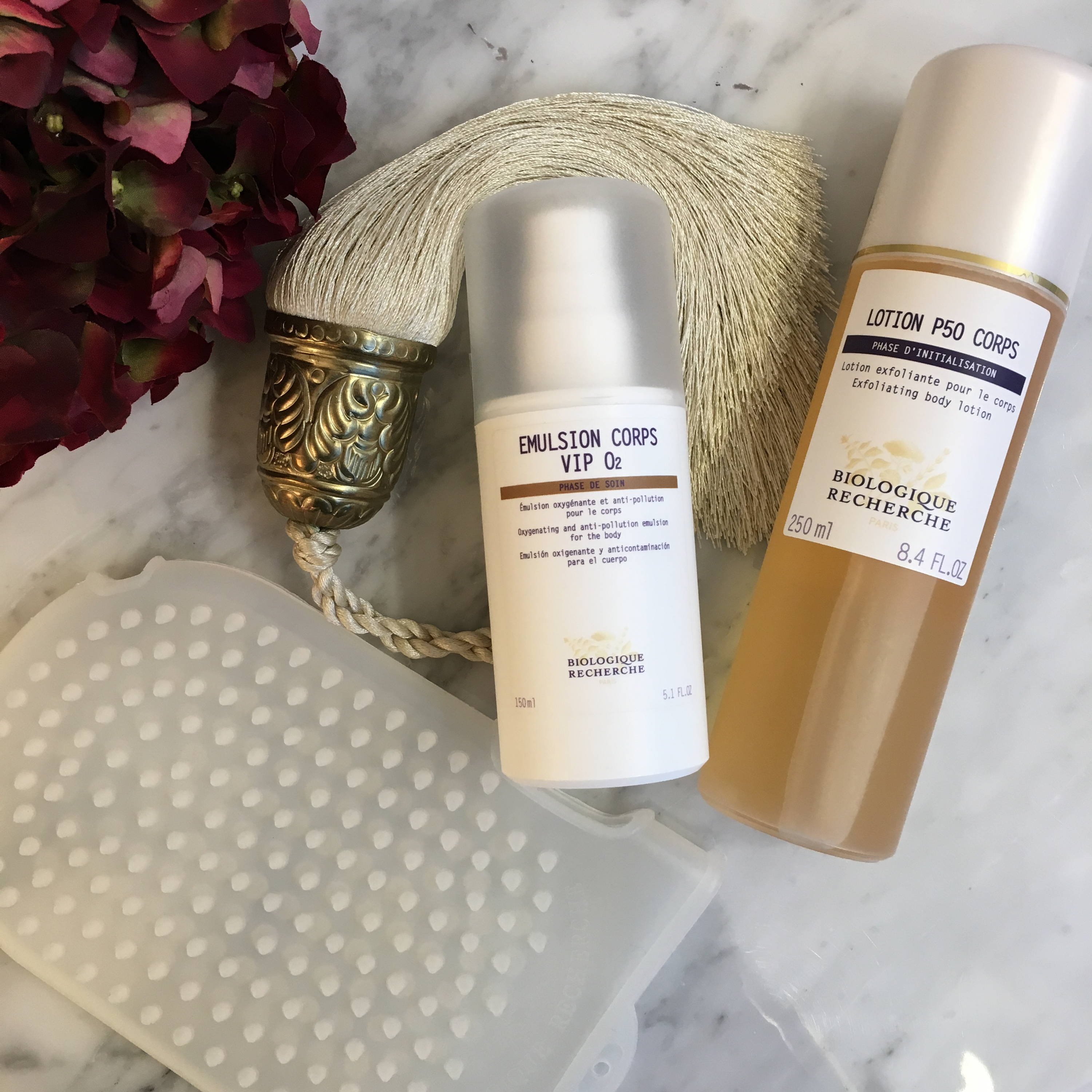 How To & Tips
Et Voila! Smoothness is on the horizon!
Tips for an Instant Face Perk-Me-Up
Convenience and fast results are the demands of today's world. Gone are the days where we order DVDs, wait the best part of a week and only then are we able to watch it …. we have streaming and instant films on download, we want it when we want it, not when we can get it, so we tend to plan ahead a lot less, and desire last minute effective and instant outcomes.
This is exactly where the art of Multi-Masking comes into play. To feel in the mood, we want our face to look plump, taught, nourished, hydrated and boy do we want that glow!
Our instant glam look can be achieved by cocktailing the following products together:
For the Plump & Nourished Actions:
The Masque Visolastine + is packed full of Hydrating agents such as Hyaluronic Acid and Polysaccharides, protecting agents such as Vitamin E, and Lipid Replenishing Agents such as Macadamia Nut Oil and Cotton Oil. All of these beautiful rich ingredients ensure that your skin is nourished, plumped, hydrated and endlessly soft.
For the Taught and Lifted Actions:
The Biomagic Masque is definitely my first choice. This clay rich mask will pull and tighten your face to absolute perfection! We call it the "Red Carpet Mask", as it lifts, tones and tightens, it also shrinks your pores!
For the Glowing Action:
The Serum Oligo Proteines Marines adds that energy and "I just went for a brisk walk" glow to the skin. Containing extracts of the precious stone of malachite and algae extract, this energising serum completely revives the skin and stimulates the cells.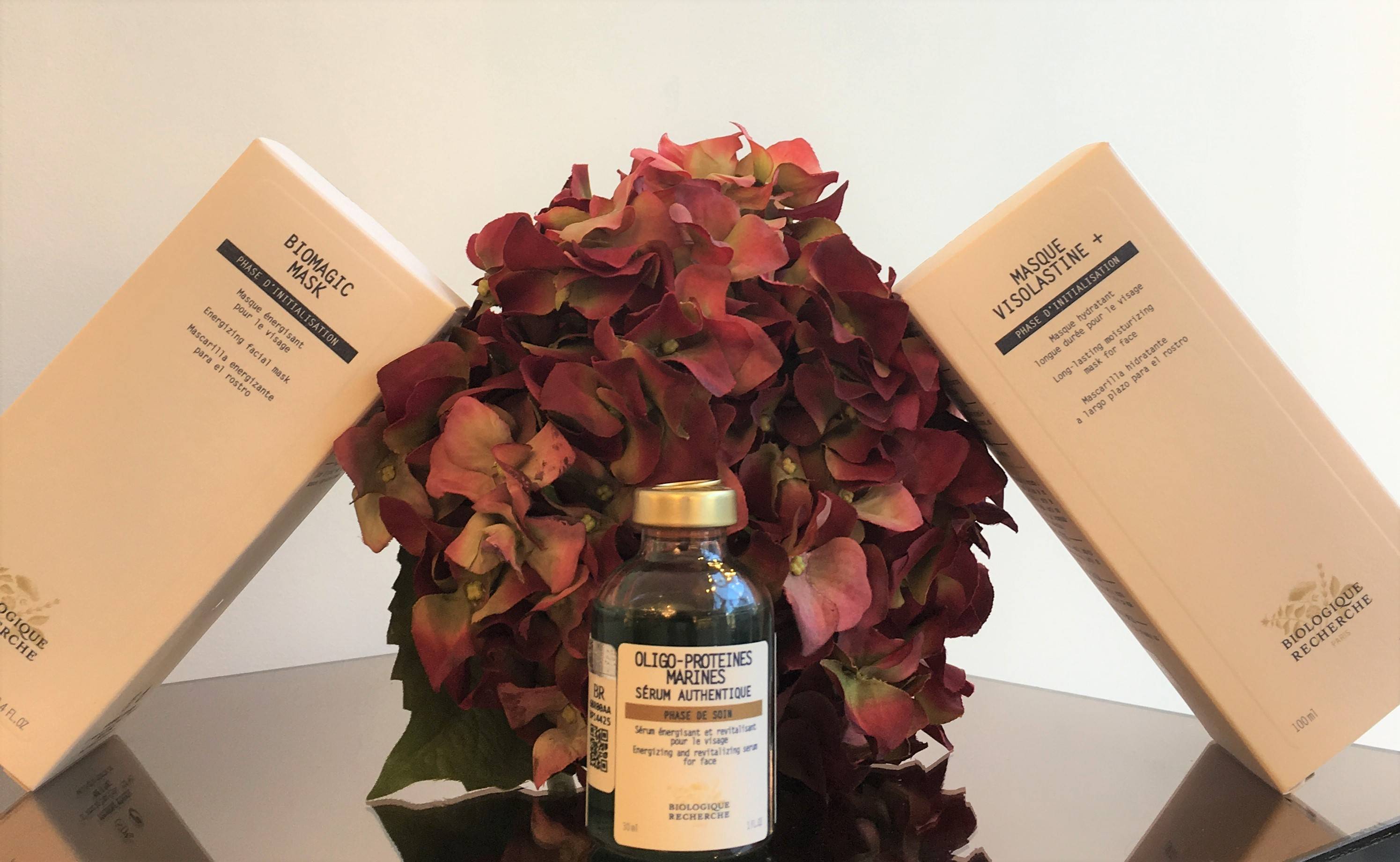 How To & Tips
Mix 2 parts of the Biomagic Masque with 1 part of the Masque Visolastine +, and mix together in a separate receptacle or into your hand. Add 10 drops of the Serum Oligo Proteines Marines, and mix in again.
Apply this stunning mixture to your face and relax for 30 to 40 minutes.
Moisten the entire mask with a little cold water to loosen it. The

Biomagic Masque

tends to really take hold!
Rinse off with cold water, using a gauze or a large cotton pad.
Apply your usual serums and creams.
The Serum Oligo Proteines Marines is fantastic at preventing or diminishing dark circles. So if you're planning on having a late night, it wouldn't hurt to pop a few drops under your eyes, to keep them clear, awake and sparkling!
For that extra tensing effect, the masks can also be kept in the fridge. So that on application, your concoction is not only more effective but also soothing and cooling.
Tips for Soft & Luscious Lips
I've always believed that Valentine's should be moved to a friendlier month. I find that February is the coldest, rainiest and dullest month of the year with very little sun. Which also means that our skins tend to always be at their worst in February, and that includes our lips!
We need our lips to be flakeless and smooth now, not red, irritated and chapped!
Let's fix the lips.
The skin on our lips is ever so slightly different to that on the rest of our face, it's more resilient and less permeable, but it also experiences a lot more wear and use. Nevertheless, our lips must still be treated and definitely not ignored!
To Prevent Chapping:
We use the Lotion P50 on our skin every day, some of us even use it twice a day. Have you ever thought to exfoliate, hydrate and renew your lips? 2 – 3 times a week, pat a little of your Lotion P50 onto your lips as your are treating your face; you will find that your lips will be more resilient, softer, and not to mention plumper.
To Protect, Hydrate & Lipidate:
Every evening, mask your lips with the Biokiss. I don't really see this balm as a normal lip balm, I perceive it as more of a mask for the lips. It's not because it's any thicker than normal balms, or that it doesn't stay on, because it definitely does; but it's the fact that it really does work, so you don't have to keep re-applying throughout the day. A night treatment of Biokiss suffices nicely.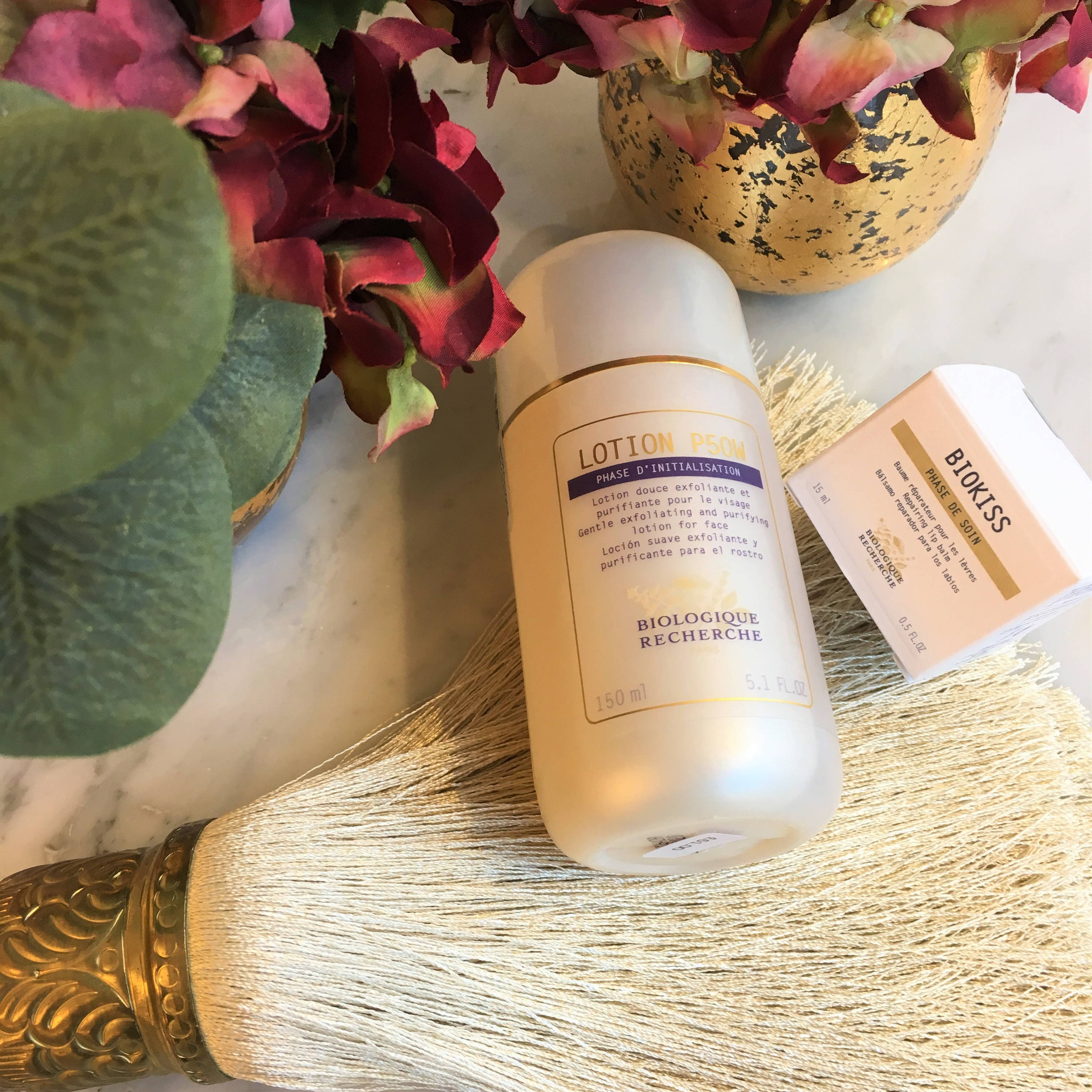 I hope that with all of these tips, you will feel confident and Al Greenish. But, as always, if you have any specific requirements or questions, please don't hesitate to contact me. After all …. That's what we're here for!
A very Happy Valentine's day everyone!