The key is finding an SPF you love enough to wear every day and luckily, we have a variety of formulas to suit your preferences. Keep reading to learn about our favourite SPFs, from tinted and weightless to hydrating and soothing.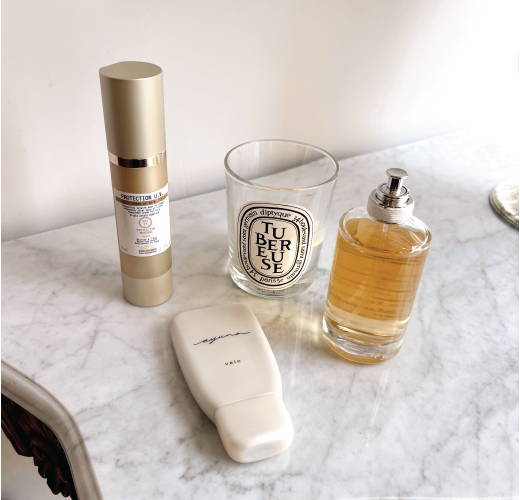 WHY IS SUNSCREEN SO IMPORTANT?

Let's face it: sunscreen is a necessary part of our daily routines to protect against UV damage. Even when the sky is overcast, we are still exposed to harmful ultraviolet rays that can cause premature ageing & hyperpigmentation. The key is finding an SPF you love enough to wear every day and luckily, we have a variety of formulas to suit your preferences. Keep reading our holistic guide to sun care to learn about our favourite SPFs, from tinted and weightless to hydrating and soothing.

Step 1: Eliminate Exfoliating Acids
Eliminate most exfoliating acids from your skincare routine in the summer months.
During the summer we need as much protection as possible from the sun's harmful UV rays. Exfoliating acids help the skin shed its older layers, leaving our skin more vulnerable and photosensitive. In addition to the risk of sunburn, exposing fresh, new skin to the sun can leave you with hyperpigmentation and blotchiness.
So, as much as we all love our acids, it's best to shelve them for the summer season and wait until the Autumn months to resume daily use.
Luckily, you can still reap similar skin refining benefits without the risk of photosensitivity by switching to Ayuna's Facial Low or High. Available in two strengths, this purifying toner helps to unclog pores and balance the skin without the use of strong acids. In lieu of classic AHAs and BHAs, Ayuna Facial Low and High rely on succinic and glutamic acid to keep the skin glowing and clear without increasing photosensitivity..

Hydration is one of the most important steps to achieving glowing, plump and ageless skin.
Much like how you need to drink plenty of water when you're spending time out in the sun, your skin also requires more hydration for the same reasons to prevent it from looking and feeling parched.  
Even if you're oily or acne-prone, every individual needs to keep their skin hydrated. Reaching for skin-quenching, water-based formulas will give your skin the big drink that it needs to stay glowing all summer long.
Sapelo Renewing Serum
An intensely hydrating serum that floods the skin with three types of hyaluronic acid to leave it looking bouncy, plump and smooth.
Auteur Definitive Hyaluron Activator
With five types of high to micro-low weights of hyaluronic acid, this serum is able to penetrate deep into the dermal layer to target every aspect of skin dehydration. Additional active ingredients include bio placenta growth factor and collagen regulator tetrapeptide to firm, lift and enhance skin's suppleness.
Definitive Hyaluron Activator
AUTEUR
Serum Colostrum VG
BIOLOGIQUE RECHERCHE
Ayuna Nectar
A plumping, hydrating serum that enhances the skin's natural ability to absorb vitamin D, which helps to restore the skin barrier and increase the skin's natural radiance.

Now, for the step we've all been waiting for: sunscreen. It can be challenging to find a sunscreen that provides necessary protection and feels comfortable to wear. Luckily, these products do exist. Here are the sunscreen formulas we recommend for various skin types and preferences.
SUNSCREENS WE RECOMMEND
Ayuna Velo
In addition to providing comprehensive UV protection, this weightless SPF 50 reinforces the lipidic shield to prevent dehydration and balances the skin's delicate microbiota. Its tinted formula offers lightweight coverage so that you can feel comfortable going makeup-free on hot summer days.
Biologique Recherche Protection U.V. (SPF 25)
In addition to providing comprehensive sun protection, Biologique Recherche's SPF 25 includes a broad range of properties that help to fight against the ageing process as well as reduce the appearance of existing dark spots and protect against further photo-ageing. Offering deep hydration and nourishment, it is more than enough as your only moisturiser during your sun-lounging periods, though you may also choose to layer it on top of your favourite cream. It is also water-resistant, making it an excellent companion for days by the beach or pool– just be sure to reapply every 2-3 hours!
Émulsion Originelle Régenérante
BIOLOGIQUE RECHERCHE
Protection U.V. (SPF 25)
BIOLOGIQUE RECHERCHE
Biologique Recherche Protection U.V. (SPF 50)
This formula contains all of the same properties as Biologique Recherche's SPF 25, only with higher protection. It has a thicker texture and is specifically formulated for more mature skin as it helps to soften the skin over time and preserve its integrity.
Combining Biologique Recherche's unique solar protection agents with an anti-glycation complex to fight against ageing, the Protection U.V. SPF 50 is truly one of a kind. Perfect for a dry skin tendency, your skin will feel soft, nourished, and protected.
When it comes to protecting your body after being in the sun, Emulsion Corps VIP O2 will provide immediate and long-lasting hydration, soothe any irritation or itching, and of course, protect the skin against daily aggressors such as pollution and weather changes. The oxygenating spray-on body cream is feather-light but powerful, stimulating the skin's natural defences and aiding in cell regeneration and repair. It is the perfect spray packed with hyaluronic acid and BR Oxygenating Complex to delicately wrap the body in a veil of hydration and protection, which your body certainly needs after a day in the sun.  
FOLLOW OUR INSTAGRAM FOR MORE CONTENT