---
---
Sunscreen … SPF… the words on everyone's lips because, well, let's face it, it's imperative to be using it daily to protect our skin against the sun's harmful ultraviolet rays.
Sunscreen creates a protective shield to prevent harmful rays from reaching the skin. But is SPF truly enough on its own without taking other preventative measures?
Explore our Embassy of Beauty skincare in the sun guide for a holistic approach to protecting your skin:
---
---
Eliminate most exfoliating acids from your skincare routine in the summer months
---
During the summer we need as much protection as possible to protect us from the sun's harmful UV rays and exfoliating acids do quite the opposite because their role is to help our skin shed its older layers.
Therefore, it removes those layers we need in the summer and leaves our skin more vulnerable. During the exfoliation process, we naturally reveal more sensitised skin, which when exposed to the sun can reveal blotchy skin and sun pigmentation.
So, as much as you (and us) love our acids, for the ultimate protection to work hand in hand with sunscreen, we strongly recommend pausing your acids until the Autumn months.
---
---
Constantly hydrating your skin
---
Hydrating our skin is one of the most important steps for glowing, anti-ageing and plump skin. And particularly in the sun, our skin needs more hydration for the same reasons our bodies do! If what you're looking for is a healthy, glowing complexion this summer, then this can only occur in the presence of water!
It doesn't matter whether you have oily or acne skin, every individual needs to keep their skin hydrated. That's why Hyaluronic Acid rich products should be your go-to this summer.
For that beautiful summer glow, we'd certainly recommend our most effective serums & creams for you to fall in love with; Sérum Colostrum VG by Biologique Recherche, Definitive Hyaluron Activator Serum by Auteur, and Cream I by Ayuna.
Browse our full Summer Skincare Edit for more inspiration.
---
---
---
Now for the step we've all been waiting to hear more about, SPF. We know it can be quite hard to find the right balance of a high-protection sunscreen for the face that will leave it soft and nourished as well as protected.
It's essential to pick a sunscreen that will give you the best skin whilst also providing comprehensive protection. And yes, these products exist!
We all know that sun exposure causes skin ageing and dehydration, which can lead to deep wrinkles and pigmentation, so let's find you the perfect SPF to keep your skin plump and hydrated.
---
---
Biologique recherche Protection u.v. SPF 25
---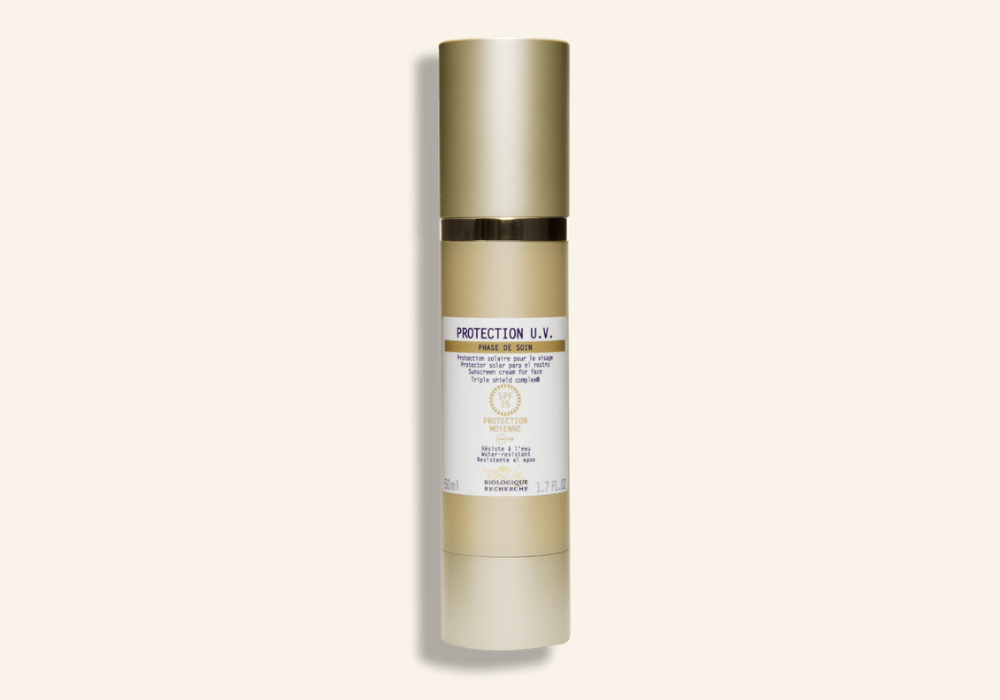 ---
---
The Protection U.V. 25 protects against UVA, UVB and infrared rays with the help of the "Triple Shield Complex". It has an SPF of 25 and is also water-resistant, making it perfect for those summer months lounging by the beach. (Don't forget to top up every 2-3 hours though!).
It has a range of properties that make it the powerful SPF it is, which includes a spectrum of protection and hydration and particularly anti-free radical, anti-ageing and hydrating agents to support the skin during the drying summer season.
Not only do these elements help fight against the ageing process, but they also help to reduce the appearance of existing dark spots and protect against further photo-ageing.
What makes Biologique Recherche's Protection U.V particularly special is its unique solar protection agents and anti-pigmentation agents. This means it is more than enough as your only cream during your sun-lounging periods, though you may choose to layer it on top your favourite cream.
---
Biologique Recherche Protection U.v. SPF 50
---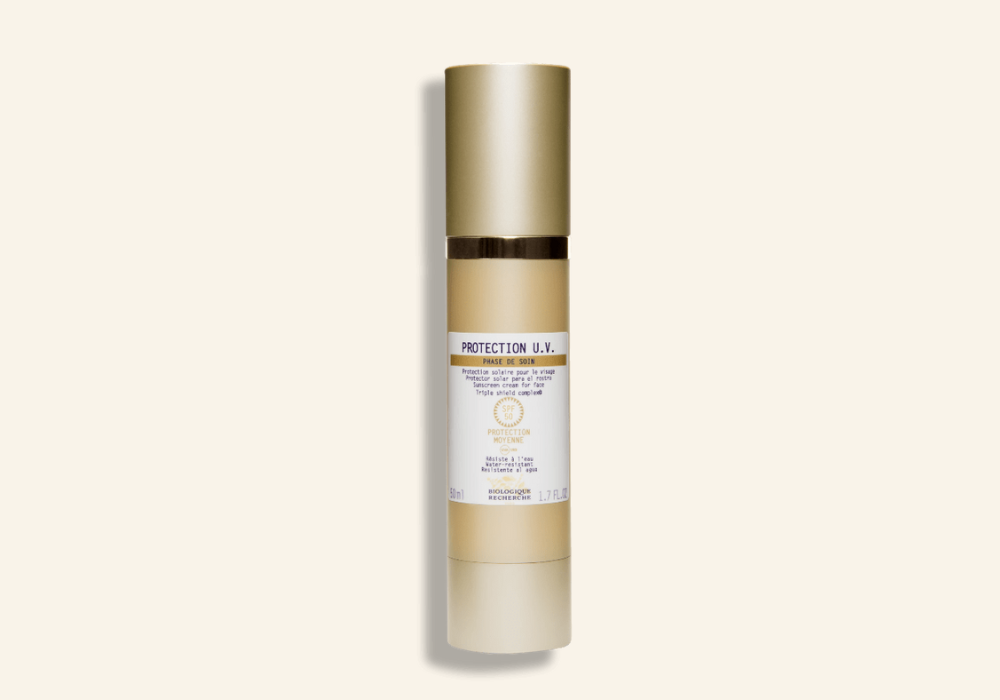 ---
---
The Protection U.V 50 is not only an SPF for the face, but also a powerful anti-ageing and anti-pigmentation cream. Containing all the same properties as our SPF 25, such as infrared, UVA and UVB protection, this sunscreen for the face is much thicker in texture, so you only need a small amount.
Biologique Recherche's SPF 50 is specially formulated for more mature skin as it helps soften the skin over time and offers comprehensive protection by preserving the skin's integrity.
Combining Biologique Recherche's unique solar protection agents with an anti-glycation complex to fight against ageing, the Protection U.V. SPF 50 is truly one of a kind. Perfect for a dry skin tendency, your skin will feel soft, nourished, and protected with this intelligent sunscreen that incorporates DNA protective platforms and helps prevent photo-ageing and dehydration.
---
---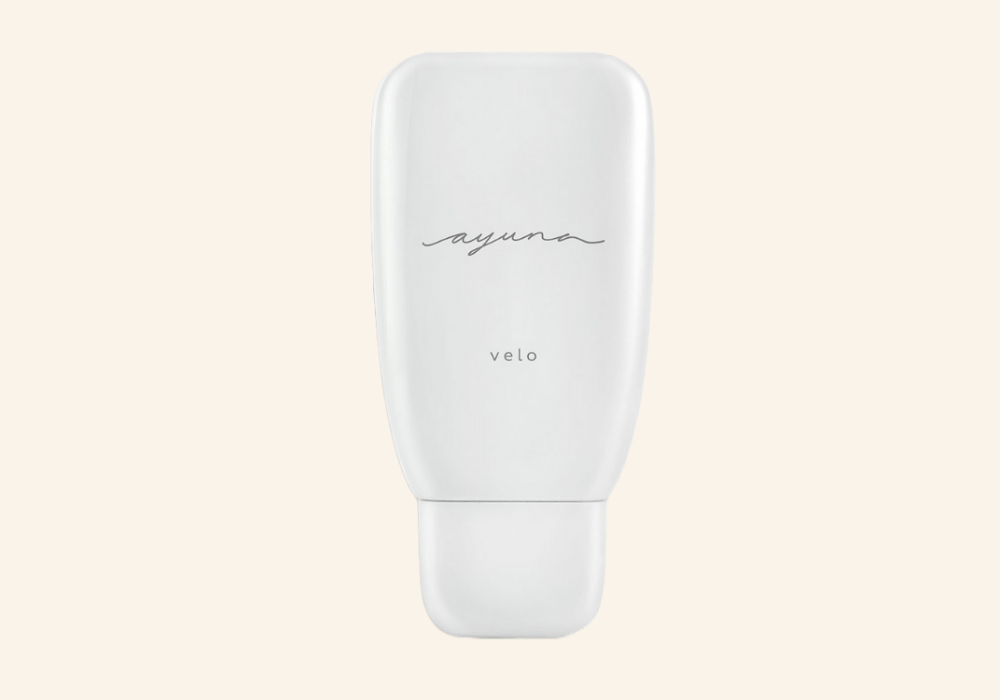 ---
---
Quite often people tend to breakout from sunscreen if using the wrong one and that's why Velo is perfect for skin that is more prone to breakouts.
Designed to protect the skin from daily environmental aggressors (pollution, oxidation, dehydration, light, dryness and bacteria), Velo by Ayuna is a sophisticated, multi-functional day cream that guards the suprastratum (a superficial layer of the skin that plays a vital role in its appearance and health). Both tinted and incredibly effective,
Velo is a 6-in-1 protection that treats, hydrates, protects, evens skin tone, beautifies and brightens. It's perfect for the summer months when you're looking for a delicate glow and protection at the same time.
---
Biologique Recherche Emulsion corps VIP O2
---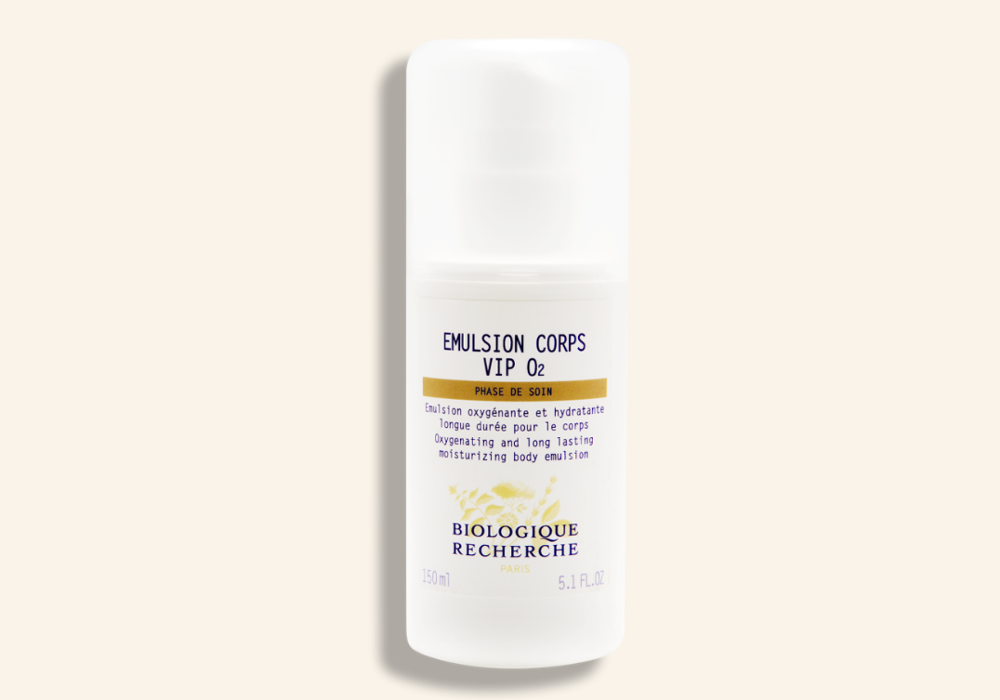 ---
---
When it comes to protecting your body after being in the sun, we've got you covered with Emulsion Corps VIP 02, which provides immediate and long-lasting hydration, soothes any irritation or itching, and of course, protects the skin against daily aggressors such as pollution and weather changes.
The oxygenating spray-on body cream is feather-light but powerful as it works to stimulate the skin's natural defences and participates in cell regeneration and repair.
It is the perfect spray packed with hyaluronic acid and BR Oxygenating Complex to delicately wrap the body in a veil of hydration and protection, which your body certainly needs after a day in the sun.