Have you noticed that there always seems to be the latest, most talked about ingredients in skincare? In the words of Yves St. Laurent, fashions fade, style is eternal. This applies to the latest buzzwords and trends in beauty – we prescribe to the school of thought that your regime should consist of the formulations that are the very best for your skin, and not those that are à la mode.
In fact, we chose to prescribe Biologique Recherche products because the range is comprised of some of the purest and most pioneering formulations you will find in a skincare – we even send a weekly newsletter detailing a new ingredient every week.
There is no single ingredient or magic solution, but with a personalised prescription of the right ingredients, you can achieve amazing results, and unveil your very best skin.
Alas, in this week's instalment of the EB e-mag, we have chosen a selection of the most talked about ingredients of the moment – AHAs, Vitamin E, Salicylic Acid and Peptides - and broken down what they do, what skin concerns they target, some of our products that include them and how they work.
Look out for our next ingredients update, where we will discuss zinc, collagen, niacinamide (B3) and Hyaluronic Acid.
To be au fait with the most talked about ingredients will arm you with the information you need to make the best choices for you and your skin – and that's something we care passionately about.

So without further ado, sit down, relax and enjoy this skincare lesson!
AHA (Alpha Hydroxy Acids)
Best for: exfoliation
The superstar product du jour is most definitely the Lotion P50, particularly as India Knight referred to it as her 'go to brilliant product' in Sunday Times Style recently, and it has previously been referred to as 'a facial in a bottle.'
The formula is much loved because not only does it hydrate, balance the PH of the skin and refine the complexion, it exfoliates – thanks to the innovative formulation containing AHAs.
The formula was first discovered in 1970, and it has been tweaked and perfected since then to reveal the product we have today. Its name is derived from "P" for peeling and "50" because it takes two epidermal cycles, lasting 25 days on average, to achieve the first level of epidermal reconditioning required to purify the skin.
Derived from milk and fruit sugars, AHAs are a chemical exfoliant. For example, apples contain malic acid, lemons and oranges have citric acid, and milk has lactic acid.
In low concentrations AHAs moisturise, and in higher concentrations they exfoliate and soothe the skin.
In the P50, these molecules are divided in a ratio of salts and acids. The acid ratio is very important and contributes to exfoliation; the ratio of salts, which is lower, contributes to hydration.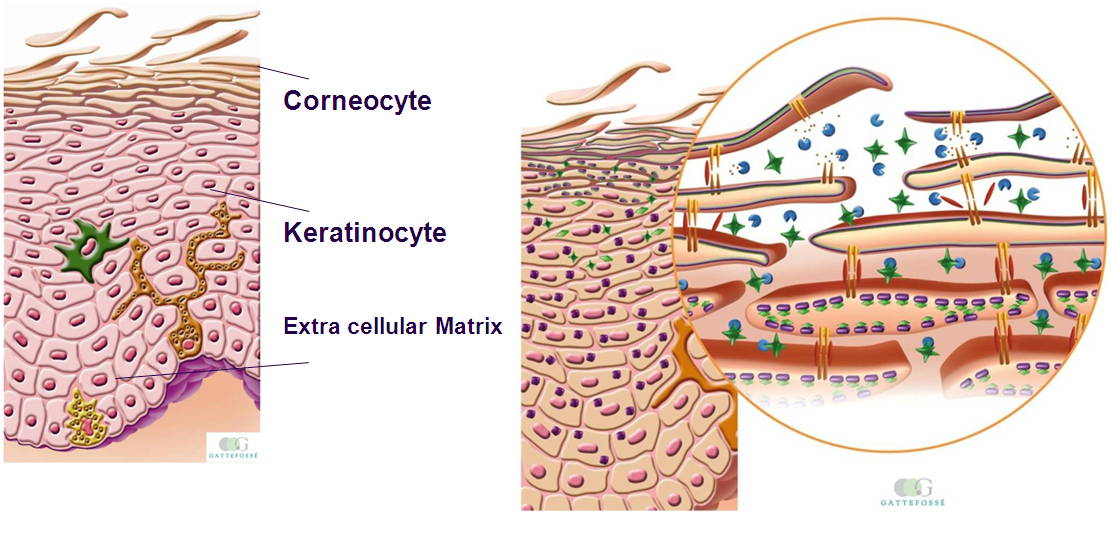 In the above diagram, you can see the different layers of the skin. AHAs stimulate the top layer of skin to shed and stimulate new cells. The AHA salts then hydrate the skin – resulting in a smoother and more radiant complexion.
The top layer of the skin acts as a shield to the world, and protects our body against aggressors, it is by creating an optimum environment for the cells to thrive that we are able to achieve our best skin.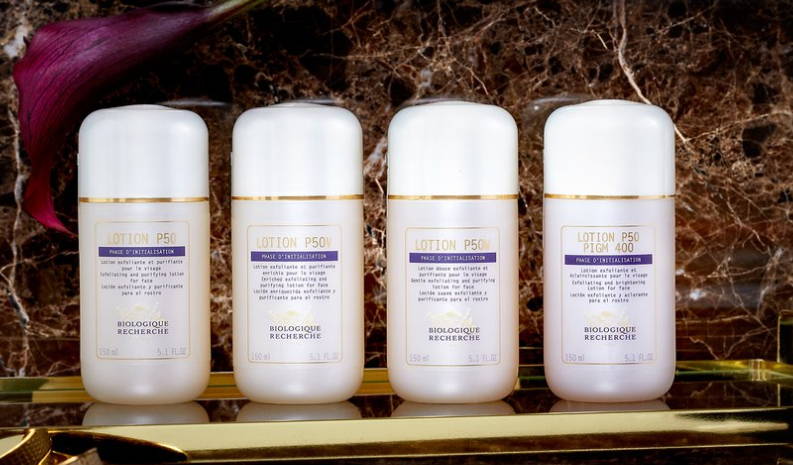 We are unapologetically passionate about personalisation, and to that end there are four different formulations of the Lotion P50, each one for a different skin concern. Each of them contains AHAs to exfoliate, hydrate and refine the skin, but each is injected with an added extra to suit different skins.
Best for: nourishing and repair
Our cells contain 'lipids' – natural fats that nourish and protect the skin. Vitamin E is a powerful antioxidant, capable of protecting the lipids from damage caused by nasty free radicals (those pesky molecules that suffocate your skin – like pollution and UV rays). It is also used to moisturise the skin by increasing water retention and restoring elasticity in dry skins – think of it as giving the skin a drink of water and a soothing hug as it retains moisture!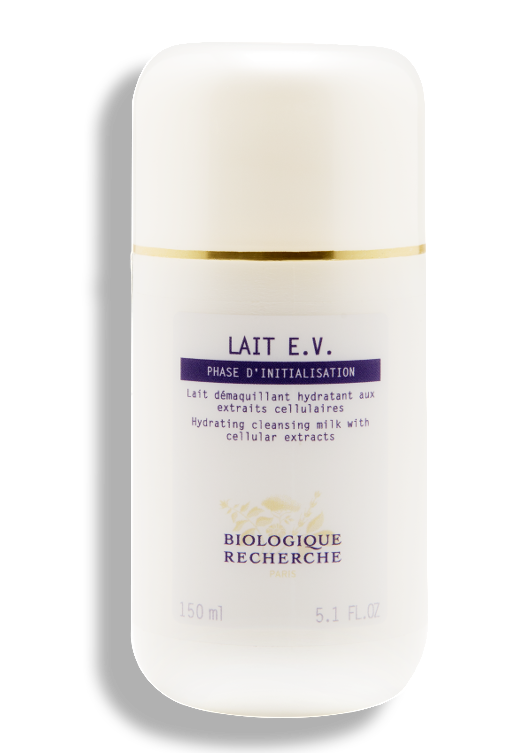 SHOP HERE
The soothing cleansing milk Lait E.V. nourishes, comforts and protects the skin as it removes the debris from the day. Massage it into the skin for a comforting sensation (you can even massage it a little more with a face glove) and gently remove it with damp cotton pads.
Best for: oily skin
Salicylic Acid has long been known for its anti-inflammatory and anti-bacterial benefits and is naturally produced by plants (such as willow). As well as exfoliating, it helps to smooth skin over the face and body, and stimulate the epidermal renewal process.
Acne is one of the prime targets for Saliylic Acid. Acne develops thanks to a combination of the over secretion of sebum in the skin, thickening of the hair canal and a resultant build-up of bacteria.
First thing's first - sebum isn't all bad. It is made up of lipids so is essential for the skin's health, and helps in moisturising the skin. It does, however, become problematic when it is produced in too large a quantity – like everything in life, balance is key.
The thickening of the hair canal occurs when it fills with sebum and dead cells which block it. When the sebum reaches the open pores and is exposed to UVA rays, it leads to whiteheads and blackheads.
Finally, an accumulation of bacteria in the skin causes inflammation and results in red, irritated spots that can start deep into the skin.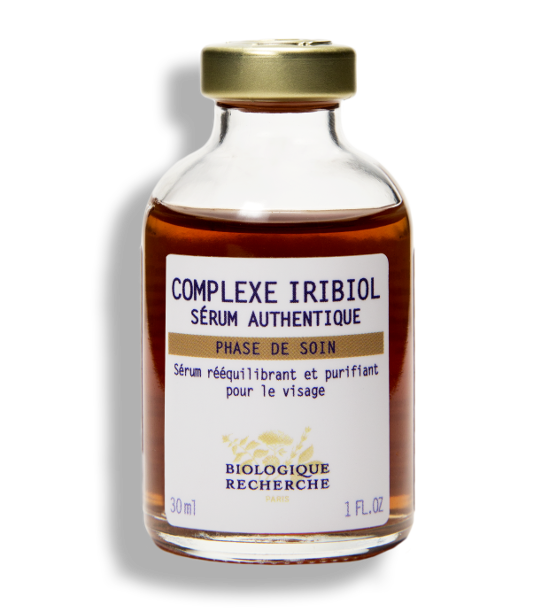 SHOP HERE
Back to our core ingredient for this skin concern - Salicylic Acid. It can be found in the purifying serum Complexe Iribiol which regulates sebum secretion and has anti-inflammatory actions – it also tightens pores and stimulates cell renewal, healing imperfections. We recommend it as an anti-acne treatment or to be used from time-to-time during outbreaks caused by stress, hormones or other factors. The EB team keep a bottle tucked away ready to target breakouts and find that it's wonderfully powerful to zap cysts and inflammation.
Best for: repairing the skin
Peptides are a fascinating ingredient. They are essentially a chain of amino acids, and so the word 'peptide' is an umbrella term for a variety of different formulations. As a result, you are unlikely to be able to recognise a peptide when you read an ingredients list, as they tend to have a scientific name, but any skincare specialist will be able to take you through the benefits of a peptide in a product.
The building blocks of our body
Peptides revitalise, protect and repair the complexion when we apply them topically. For example, some peptides form proteins which produce more collagen in the skin. At EB, we use Biological and Marine complexes rich in peptides to give us powerful results.
One of the most recent development in skincare is an ingredient exclusive to Biologique Recherche, EpigenActiv© - contained in our most illustrious and ultimate anti-ageing cream, La Grande Crème.
S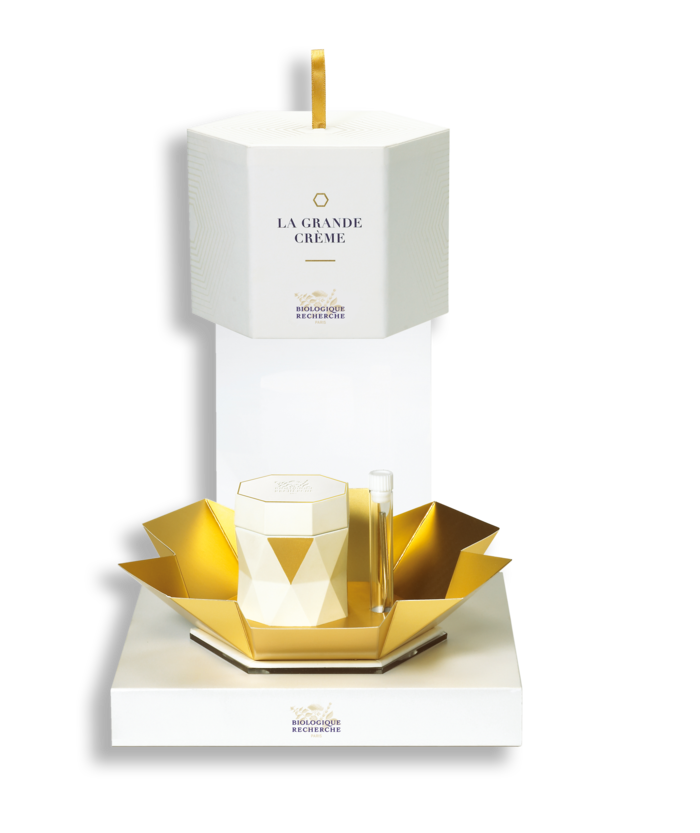 SHOP HERE
This innovative peptide acts on receptors in the skin that are essential for regenerating tissues and recycling degraded proteins – as a result, the skin is renewed, smoothed and the complexion more even.
In addition, the La Grande Crème contains three additional peptides with anti-wrinkle benefits – Matrikines, Argireline and Carcinine.
Matrikines are small peptides naturally present in the skin, they stimulate cell renewal and repair skin damage relating to aging and UV ray attacks in the skin, therefore reducing the depth of wrinkles and improving skin tone.
Argireline is a muscle relaxing peptide that reduces the appearance of expression wrinkles and smooth lines – think of a botox like effect (without the injections!)
Carcinine has anti-wrinkle and antioxidant benefits. It 'traps' the glucose that leads to wrinkles and replaces collagen in the skin.
We hope this article has helped to arm you with information about those ingredients we are sure you will have heard of, but perhaps wondered how they work – and if they are for you.
We urge you to enjoy discovering more about your skin, and what a difference the right ingredients can make when you personalise your prescription.
Keep an eye out for upcoming articles covering more ingredients, and please don't hesitate to contact us with any questions you have – we love hearing from you!