Spring is a time for renewal and rejuvenations – for both you and your skin. Taking care of your skin is a lifelong journey, and the best way to achieve healthy, radiant skin is to listen to your skin's unique needs and adjusting your routine accordingly.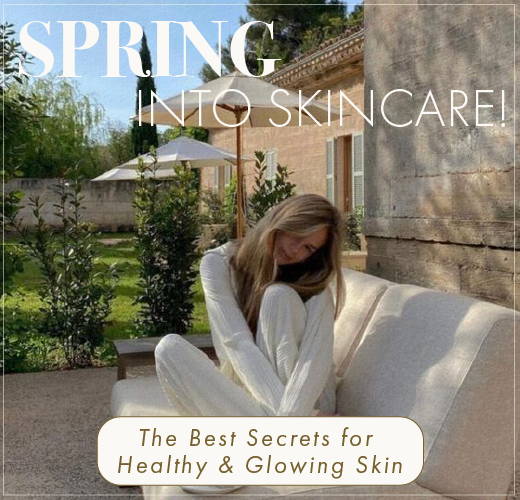 SPRING INTO SKINCARE
THE BEST SECRETS FOR HEALTHY & GLOWING SKIN.

---
Spring is a time for renewal and rejuvenations – for both you and your skin. Taking care of your skin is a lifelong journey, and the best way to achieve healthy, radiant skin is to listen to your skin's unique needs and adjusting your routine accordingly.
With strange weather conditions and longer days, temperatures become milder or warmer, humidity changes and pollen will start to fly around, finding the right skincare is sometimes challenging. The inconsistent changes mean we need to adapt our skin the same way we adapt our clothes.
So, the biggest challenge is not just about what skincare to use but how to transition from our Winter routine to a Spring. I have a few easy tips to get the skin ready to take on whatever Spring throws at us – April showers, warm sunny days, or crisp, cool, cloudy evenings.

TIP 1: SPF
Longer Days Mean Longer Exposure to UVA & UVB, Even On Cloudy Days
The most important tip of Spring – SPF; Sunscreen is an essential component in any skincare routine. Whether it's comprehensive or very simple, SPF should be a key step. As we all know, it protects our skin from the UV radiation which causes damage to our skin's cellular DNA which leads to premature ageing and hyperpigmentation. Not only to the direct impact UV rays have on skin, but it also affects the efficacy of active ingredients within your skincare!
UV radiation can cause photodegradation, in which active ingredients in skincare products break down when exposed to sunlight and heat which can even render them completely inactive. For those of you who used retinols during the Winter, now is the time to start lessening the usage or taking a break (as long as you've passed the acclimation process) and liberally apply SPF.
To mitigate the negative impacts UV radiation has on the skin and products, it is important to protect them. SPF helps to prevent the photodegradation of active ingredients, so they continue working while on your skin. Even on days that the sun doesn't shine, you should still be wearing SPF. Wearing SPF even when it is cloudy will still benefit your skin as the UV radiation can pass through the clouds and as the sun will be up for longer, which means slow but essentially more exposure.
Biologique Recherche's 'Protection UV25' is a great lightweight SPF that is perfect for the average Spring's weather conditions. It helps to block UVA, UVB and Infrared light. It uses a blend of 100% Natural Mineral Filters Zinc-Oxide and Titanium-Dioxide and innovative plant-based filters and active ingredients such as Karanja Oil.
It also contains high levels of anti-ageing ingredients to help the efficacy of the products and prevent the loathsome glycation process. Phytosterols from Rice Bran and Golden Seaweed extract provide fantastic antioxidant benefits, helping to target free radicals and give essential sugar complexes to hydrate and regulate water levels.
The treatment is also water-resistant, not that the water here in the UK is particularly enjoyable to take a dip, but it creates a lipid barrier over the skin to also prevent trans-epidermal water loss, which with humidity changes, is very beneficial.
Protection UV (SPF25)
BIOLOGIQUE RECHERCHE

TIP 2: Lock In Water With Lightweight Lipids
As the weather starts to warm up, heavy barrier creams can feel a bit excessive on the skin. Instead, opt for a lightweight cream or emulsion that's just as restorative, giving you that coveted spring glow.
However, It's important to remember that the skin's barrier function relies on a delicate balance of lipids and proteins to keep moisture in and irritants out. When the air is humid or on those rainy April days, the excess moisture in the air can be absorbed into the skin and disrupt the balance. This can actually lead to increased water loss, dryness and increases susceptibility to irritants and bacteria. It is the reason 'maskne' was such a problem over COVID.
To combat these effects and keep your skin nourished and hydrated without feeling heavy, Biologique Recherche's 'Emulsion Orignelle Regenerante' is a fantastic choice. Specifically designed for use in warmer climates, this cream provides essential lipids and waters to the skin, making it the perfect transition cream as the seasons change.
With reparative and regenerating ingredients like Mimosa Tenuiflora Extract and Moisturising Plant Sugars, this cream stimulates tissue repair and promotes the synthesis of lipids.
Additionally, it contains my favourite combination of Hyaluronic Acid and Rhizobium, which not only helps to retain water within the skin but also opens the reservoirs to regulate hydration levels and maintain skin's structural integrity.
Émulsion Originelle Régenérante
BIOLOGIQUE RECHERCHE
Émulsion Originelle Régenérate
BIOLOGIQUE RECHERCHE

TIP 3: Protect The Barrier Functions
Warmer days can often result in the accumulation of sweat and sebum on the skin. While these natural oils are vital for maintaining the overall health of your skin's barrier functions, and an excess of them can upset the skin's delicate balance and encourage the growth of pathogenic bacteria.
As mentioned already, the barrier function relies on a delicate balance of lipids and proteins, anything beyond that is not good. It's also common to fall into the trap of using harsh cleansers or toners to control oil shine during warmer days, which can harm the skin's barrier functions. It is essential to keep the barrier function working healthy and happy to restore balance to the skin.
Fortunately, Ayuna's The Facial Low offers an effective solution for keeping the T-zone shine under control while simultaneously preserving and restoring the skin's barrier functions, otherwise known as the hydrolipidic film. This innovative product employs a combination of Succinic Acid and Glutamic Acids to gently purify the skin, cleanse the pores and increase cell proliferation while keeping harmful bacteria at bay.
Additionally, it contains a blend of microbiota balancing ingredients such as Noni Cell Factors and Postbiotics: Lactobacillus and Cocos Nucifera Ferment, which work to increase the healthy bacteria on the skin and prevent dysbiosis (the imbalance or surplus of pathogenic bacteria on the skin).
By using a gentle yet effective approach to skincare, this toner helps to achieve glowing radiance without compromising on your skin's health or natural balance.
Our goal is to achieve an even and radiant complexion, and this can be accomplished by balancing, hydrating, and protecting the skin. By incorporating these tips into your skincare routine, you can achieve spring-ready skin without offsetting the current balance that your skin enjoys from winter.
During this period when cold days are more prominent and Winter just won't let go, consider using your current heavy day cream as a night cream, allowing your skin to slowly adapt to the change in preparation for the warmer season ahead. Here's hoping for a beautiful spring and the skin to match it!
---
---
FOLLOW OUR INSTAGRAM FOR MORE CONTENT