As the seasons change, our skin can react and become unbalanced in lots of weird and wonderful ways.
Every skin is different, and so it's difficult to get skincare tips and tricks from friends and relatives, who have the best intentions but usually have totally different skin to ourselves. But you're not alone, we've found you a friendly face to give advice in the form of our skin experts. The EB facilities spend day after day meeting a host of lovely clients and treating their skin concerns.
Our very own EB facialist Claudia has a particular interest in treating sensitive skins. So who better to advise us on avoiding that awful peril of winter rosacea than her?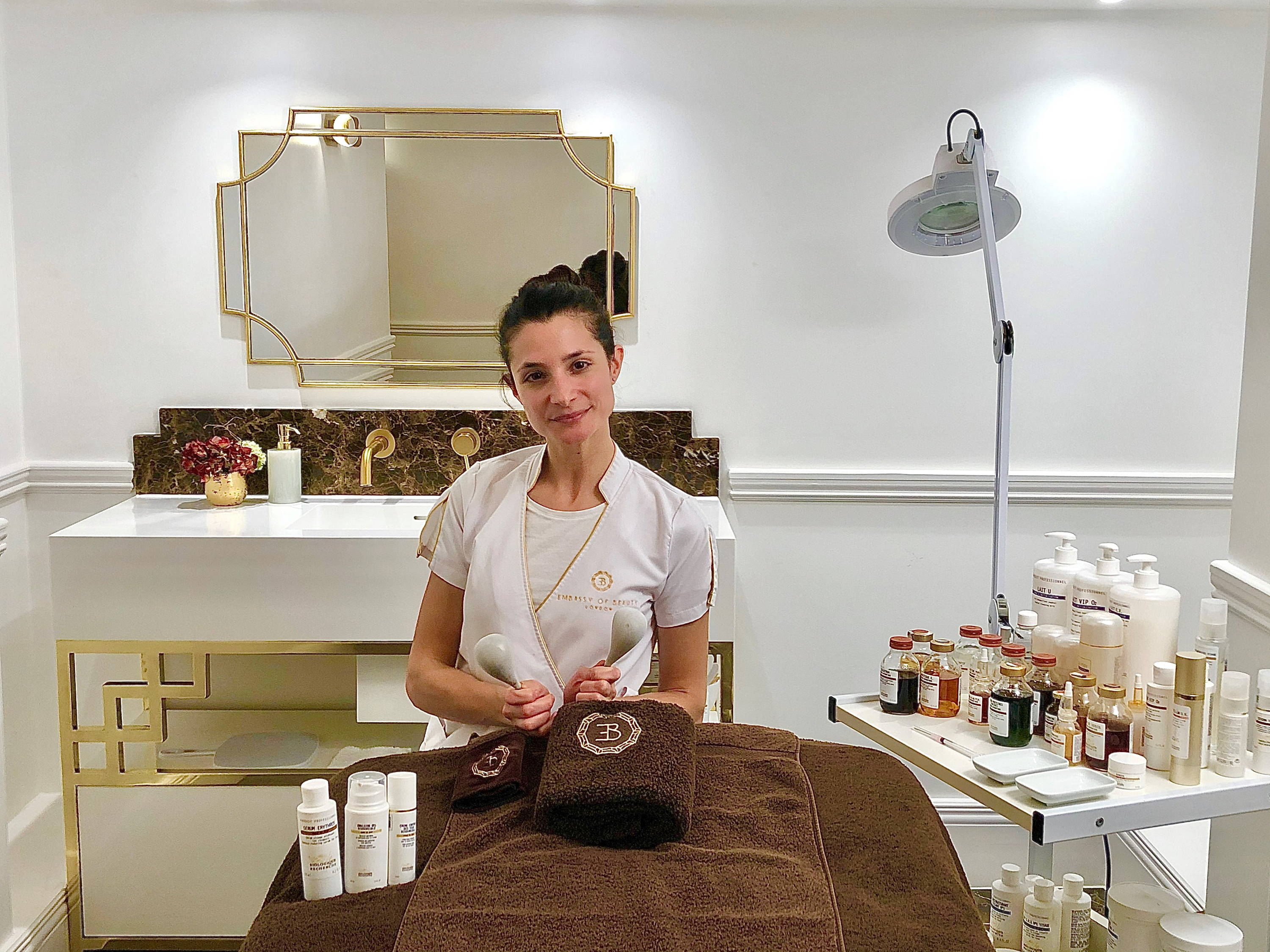 1. Keep your skin calm
This time of year is treacherous for sensitive skins. We are finding more and more people suffering from sensitivity related issues, and so when it comes to avoiding a rosacea flare-up in cold weather, there are a few things to consider to calm your complexion.
Gentle and soothing skincare: milk cleansers are a great way to cleanse as they will give the skin a deep clean without disturbing the balance of the skin
Calming and soothing ingredients: Soothing and calming ingredients such as arnica, aloe and white or green tea leaf extract are all good for skin prone to rosacea
Light, soothing textures: Choose moisturising creams with relipidating agents and ingredients such as hyaluronic acid to hydrate and protect the skin
Mineral make-up: Mineral make-up is best for skin prone to rosacea, as it is purer and doesn't penetrate the skin.
2. Avoid irritating the skin
Our skin changes from week to week, and even day to day, and sometimes we have blemishes and congestion caused by hormones or stress, sometimes our skin looks a bit tired or puffy.
Now we've explored what to look for, there are a few things that I advise avoiding if you want to steer clear of flare ups. In general, these are anything that could irritate your skin or cause a reaction either from having a rough contact with the surface of the skin, or by irritating from the inside.  
 Cleansing wipes: even if your skin is not sensitive, cleansing wipes tends to scratch the surface of the skin and don't actually clean or nourish your face, so are never a good idea, but especially if you are sensitive!
Face brush machines: These can cause broken capillaries and irritation. If you really can't live without yours, it's best to opt for a silicone brush head, use it once or twice weekly and wash it after every use to prevent bacteria build up.
Harsh chemicals: Less is more, and the purer the ingredients the better. That's why Biologique Recherche serums are particularly brilliant because they are powerful yet pure. Some of us like to wear SPF in the winter, and we recommend using a UV protection with physical filters (rather than chemical), such as the Biologique Recherche SPF range.
Exfoliants with beads/scrubs: Scrubs and beads can be harsh on the skin, and sensitise it too much, instead use the Lotion P50W (more on that later).
3. You are what you eat
One of the things you rarely hear discussed in skincare articles, that is really important to the overall health and wellbeing. It makes a huge difference to the levels of antioxidants in your body and your overall wellbeing. Now, we're not saying to cut out everything you love (we all enjoy a glass of wine every now and again!) but make sure you have a balance, and pack those anti-inflammatory foods in your diet.
Spicy foods, alcohol, fried and processed foods can all cause inflammation, those with anti-inflammatory properties include leafy greens, green tea, turmeric, dark chocolate, fruits nuts and fatty fish.
Find a gentle routine
Let's work through a gentle (but effective) skincare routine that will help you to avoid rosacea flare-ups this winter.
Start with a gentle, soothing cleansing milk designed for sensitive skin. Biologique Recherche Lait U is designed for this very purpose. Use cold water to clean the face, as this will soothe any sensitivity.
Follow with the Biologique Recherche Lotion P50W, it is designed for normal to sensitive skins, and will gently exfoliate the skin and encourage it to renew and regenerate. The added arnica ticks the box of including calming and soothing ingredients too.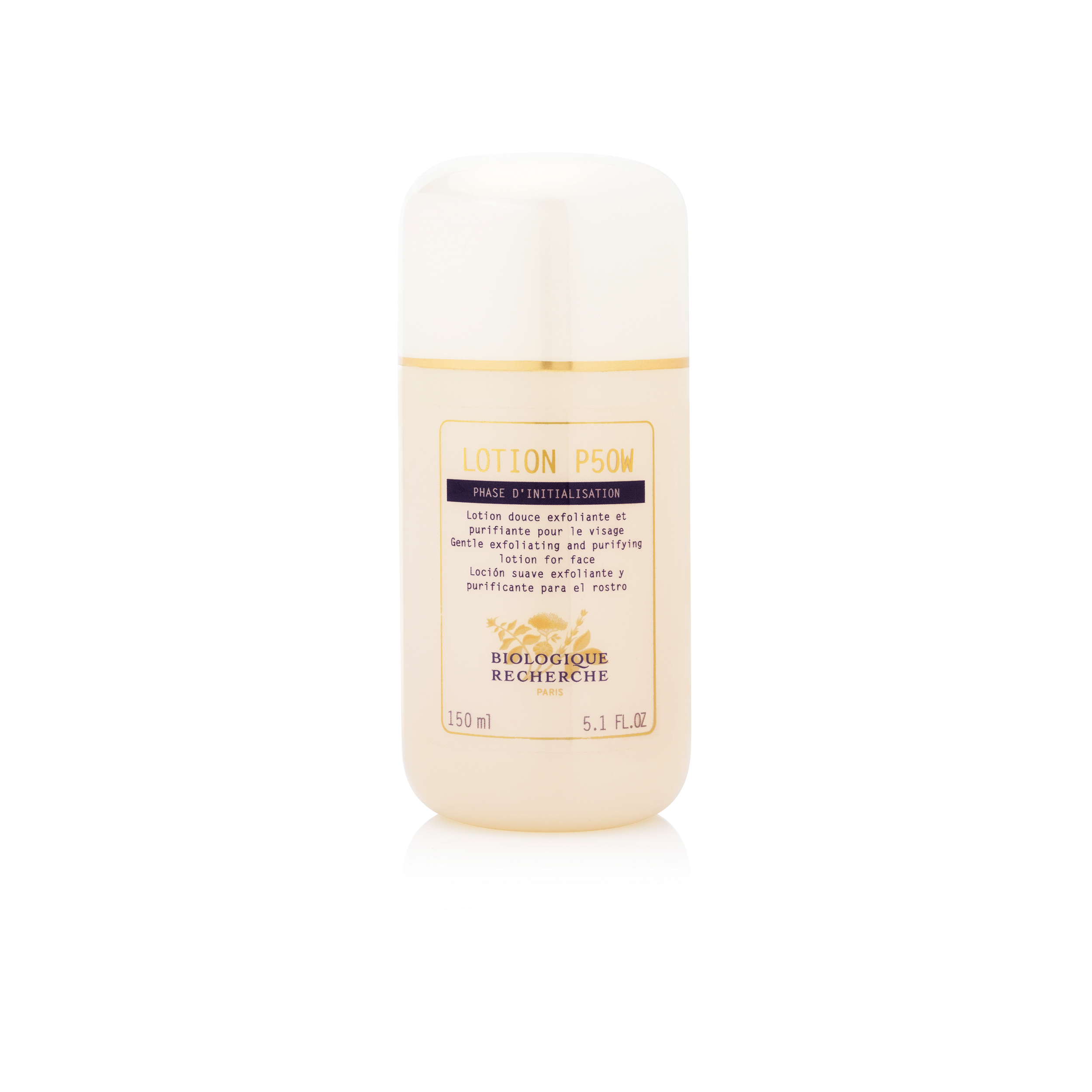 Next up is your serum. Choose a soothing serum that will help control redness and prevent capillaries dilating. The Biologique Recherche Sérum Erythros is especially formulated for rosacea-prone skin to erase redness and provide instant comfort. You can even mix it with your hydrating mask if you prefer.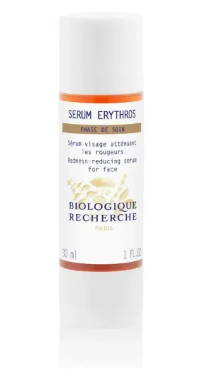 Finally, choose a light moisturiser for everyday use. The Biologique Recherche Emulsion Gel Biosensible is packed with calming ingredients such as pomegranate, royal jelly extract, silk extract and protective ingredients such as hyaluronic acid and natural moisturising factors that will immediately calm and alleviate discomfort.