As we gradually edge our way towards daylight savings time and (fingers crossed) much warmer weather, it's important to give our skin the attention it needs, particularly due to the effects of environmental aggressors on our skin during the wintertime. Those of us based in more urban environments must also deal with the suffocating effects of pollution on the skin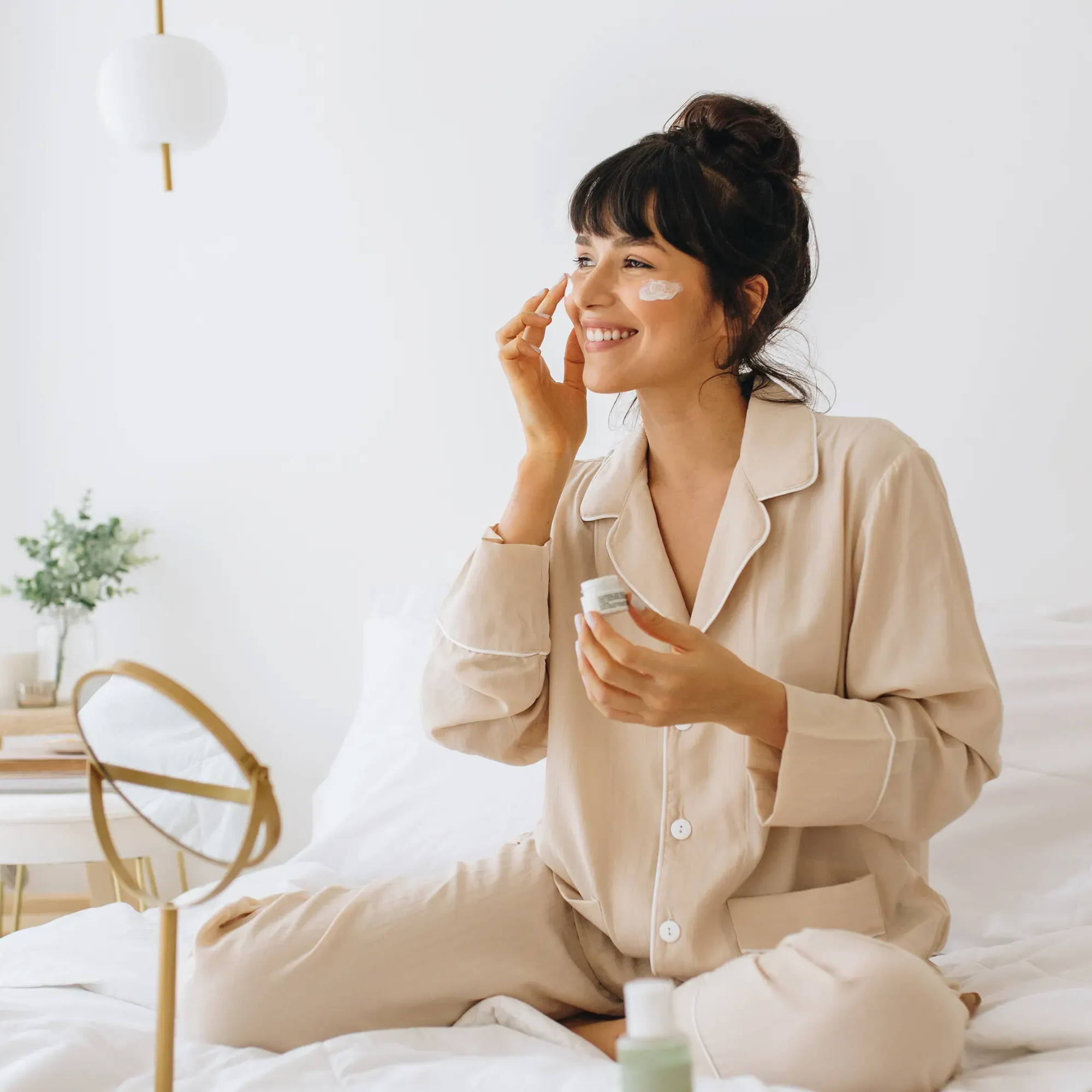 ---
As we gradually edge our way towards daylight savings time and (fingers crossed) much warmer weather, it's important to give our skin the attention it needs, particularly due to the effects of environmental aggressors on our skin during the wintertime. Those of us based in more urban environments must also deal with the suffocating effects of pollution on the skin.
Sadly many of us, myself included, are left with dull, tired and extremely dehydrated skin as a result of these external aggressors. It is therefore of paramount importance to implement products into our skincare routines that focus specifically on oxygenating and, hydrating the skin – because who doesn't want beautiful, bright and glowing skin?
In this edition of the E-Mag we are going to be looking at the reasons behind why our skin gets dull and dehydrated, how to spot the signs of this in your skin and the tremendous impact oxygenating and brightening products will have on your skin. Finally, we will be recommending the perfect products to oxygenate the skin, brighten your complexion and give you that gorgeous glow.

What Does It Mean To Have Dull Skin?
Dull skin is typically a result of poor blood circulation and a lack of oxygenation, this lack of oxygenated blood can result in a more greyish or dull complexion. Generally, dull skin lacks radiance or glow, which is commonly associated with healthy skin.
Common factors that can cause dull skin include dehydration, lack of exfoliation, polluted environments, smoking and stress. Those living in urban areas, possibly working more stressful and tiring jobs, are prone to suffering from duller complexions. Similarly, as the skin ages it can often become duller, largely to the skin regenerating at a considerably lower rate as opposed to the regeneration time in younger skin.
The best solution and treatment for this type of skin is a combination of exfoliation and oxygenation. Both aid in the speeding up of the process of cell turnover, helping with the detoxification of the skin and repairing skin cells.

What Does It Mean To Have Dehydrated Skin?
Skin can be dehydrated at any age, whether it is dry or prone to seborrhoea. Dehydration is a physiological condition and is generally temporary. Dehydrated skin results from the skin's inability to maintain optimal water levels. It is extremely common and most of us have some degree of dehydration.
Skin hydration is a constant flow of water from the dermis to the epidermis and it is regulated in 3 ways:
Through the hydrolipidic film on the skin which limits water evaporation

Intercellular lipid cement that helps retain water in the horny layer (the outermost layer of the skin)

Natural moisturising factors that ensure the capture of water by the cells in the horny layer.
The skin's hydration level results from the balance between water intake, capture, retention and evaporation. Dehydration is a genuine gateway to wrinkles; as the outermost layer of the skin contracts, becomes sunken and more wrinkled and, signs of cutaneous ageing are visibly aggravated.
Signs of dehydrated skin include the formation of lines on the skin, duller complexions and a sensation of tightness. The main causes of dehydration include the weather and environment, limited water consumption, unsuitable products and medication in some cases.

What Is Oxygenation & How Does It Benefit the Skin?
Oxygenation = tissue revival
Oxygenation has to do with breathing and blood flow. On and in the skin, as for other tissues in the body, oxygen is essential to the health and maintenance of the cells. Young skin gets plenty oxygen from the environment because it still works efficiently enough to process what's on offer. With age, however, skin loses its ability to retain and utilize oxygen for normal metabolic processes. Repair and regeneration of collagen and elastin tissue that provide the skin's structural integrity are two of these.
What oxygen in skincare does is enhance the available oxygen to the skin, boosting circulation, stimulating cell turnover, and leaving the complexion hydrated, plump and revitalised. High concentrations of oxygen also trigger the body's healing functions. Furthermore, in an oxygen-rich environment, bacteria, viruses, and fungal infections simply do not survive.
Your cells need oxygen to stay healthy and nourished.
In summary, oxygenation helps with boosting collagen production, detoxifying the skin, speeding up cell turnover, moisturising, healing and evening skin tone. Pretty impressive stuff.
Now we have gone through definitions and the causes of these skin conditions, let's move on to our product recommendations:

The Biologique Recherche VIP O2 Range
The Biologique Recherche VIP O2 range has been precisely formulated to combat the detrimental effects of pollution on the skin, leaving the skin oxygenated and brightened. The products in this range all feature BR's Oxygenating Complex: a secret formula that contains, among other excellent ingredients, perfluorodecalin, a compound known for its ability to transport oxygen. This complex boasts exceptional oxygenating properties, allowing the tissue to breathe better by creating a true stimulation of cellular exchange that, helps to increase the results of other active ingredients that will be applied to the skin.
By focussing on three targeted actions, the VIP O2 range is the ultimate anti-pollution weapon;
Purification: eliminate the particulate pollutants from the surface of the epidermis;

Detoxification: neutralise the pollutants found in the skin;

Protection: form an anti-pollution shield to prevent the deposit of new pollutants.
These are some of our favourite products from the range:
Lait VIP O2
BIOLOGIQUE RECHERCHE
PURIFICATION
Firstly, it is crucial to thoroughly and effectively cleanse the skin to remove accumulated pollution and extract liquid pollutants dissolved in the hydrolipidic film. Certain atmospheric particles are up to 20 times smaller than the pores and thus can easily infiltrate them, suffocating the epidermis and generating oxidative reactions.
The Lait VIP O2 is a unique anti-pollution cleansing milk. Not only does it remove all traces of makeup and impurities, but it will also hydrate and brighten the skin. With Vitamins E and F and, the regenerating agent Cellular Oligopeptide, the skin will be left brighter and energised.
Apply Biologique Recherche Lait VIP O2 cleanser with fingers or with the BR Face Glove to face, neck, and décolleté, using light circular movements. Remove with slightly moist pads or rinse off with cold water (the water being cold is a must!).
Perfect for stressed, devitalised skin instants
Masque VIP O2
BIOLOGIQUE RECHERCHE
DETOXIFICATION
Next in the BR VIP O2 system, it is important to detoxify the skin. Repairing damage the pollutants have already created by eliminating the cellular waste produced by protein and lipid oxidation.
The Masque VIP O2 brightens and restores the skin. With the hydrating complex of Hyaluronic Acid and Rhizobium and the anti-pollution agent Chlorella Sorokiniana microalgae, the mask detoxes the skin without leaving it stripped. Skin will look healthy, regenerated and be protected.
Apply Masque VIP O2 all over the face, neck and décolleté. Leave for 15 minutes, moisten the mask and rinse off with cold water and/or damp cotton pads. Use your treatment mask at least twice a week
Perfect for dull and devitalised skin instants.
Fluide VIP O2
BIOLOGIQUE RECHERCHE
PROTECTION
Finally, following the steps of Purification and Detoxification, is Protecting to ensure the work of previous steps is maintained.
This gorgeously sumptuous finishing serum is one of the most active formulations in the range regarding combatting pollution and illuminating the skin. Containing a protective blend of concentrated ingredients including Silk Extract and Phospholipids that help with moisturising and reconditioning, Fluide VIP O2 ensures that you glow with radiance! Your skin will be left plump, bright, even and protected.
Apply a few drops of Fluide VIP O2 to the entire face, neck and décolleté in the morning and/or in the evening. Alternatively, a few drops can also be mixed into your cream.
Perfect for dull and dehydrated skin instants.
For those extra steps to enhance and maintain the glow and hydration in your skin, we have recommendations from both Biologique Recherche and our Vegan-Friendly brand Ayuna:

Polish Your Skin with Ayuna's Essence
The build-up of dead skin cells is a significant cause of duller looking skin, adding a product like Essence that exfoliates into your routine is going to ensure this build-up is removed and, result in the continuation of a clearer and brighter complexion.
Featuring a natural, grain-free and biodegradable exfoliating agent, and chemical exfoliation from Alpha Amino Acids, this formula gently polishes the skin. Dull skin is awakened, the appearance is rejuvenated, and the skin is left feeling remarkably soft to the touch.
The result is visibly brighter, more refined skin and an even complexion.
Apply to skin, neck and décolletage, including eye and lip contours. Apply a thin and uniform layer. Allow to act for 5 to 10 minutes. Remove by rolling off the skin. Rinse any excess and dry. Apply once or twice a week.
Perfect for seborrheic and / or dull and / or flaky skin types.

Brighten your Under-Eyes with Patchs Défatigants
Patchs Défatigants
BIOLOGIQUE RECHERCHE
Those working in urban environments are likely to be exposed to tiring days, and the effects of these tiring, high-paced lifestyles sadly are often reflected on our faces. BR's Patchs Defatigants are essential when it comes to tackling dark under-eyes.
The Patchs Defatigants are pre-soaked in a luxurious formula enriched with caffeine, hyaluronic acid and a complex of matrikines, meaning that a single dose sachet will immediately reduce signs of tiredness and ageing.
Your eye area will be instantly awakened, bright, youthful and radiant.
Place the pre-soaked biocellulose patch with the widest part on the bottom of the eye and the narrowest part on top. Smooth it with your finger so that it perfectly adheres to the skin. Repeat on the other eye. Leave on for 15 minutes, remove the patches, and massage using circular motions until the excess serum is absorbed. Use once a week for 3 weeks.
Perfect for tired skin instants with under-eye puffiness.

Leave your Skin Glowing with Sérum Oligo-Protéines Marines  
Sérum Oligo-Protéines Marines
BIOLOGIQUE RECHERCHE
For those searching for a product that goes deeper and has a higher concentration of ingredients, a serum is a must.
Promote the skin's vitality with this reviving serum that increasingly brightens and unifies the skin. The Sérum Oligo-Protéines Marines encloses the phenomenal brightening agent Laminaria Algae Extract. Its energising and revitalising properties enhance the complexion by leaving the skin glowing and uniform in tone.
Lightly massage into clean skin over the entire face, neck and décolletage. Massage 10 drops of Sérum Oligo-Protéines Marines, until the product has been completely absorbed.
Perfect for stressed, devitalised and dull skin instants with imperfections. Also ideal for asphyxiated skin instants, found in smokers.

Relax the Skin with Ayuna's Cream III
Finishing any skincare routine with a cream is an absolute must. As previously discussed, our skin naturally loses moisture and it is the same case with products, unless we lock them in. Creams feature occlusive ingredients which make sure all the ingredients you have applied to the skin remain there. This just ensures all your hard work does not go to waste, and the results are long-lasting!
Cream III is reinforced with lipid-replenishing Jojoba and Rice Bran Waxes that moisturise, smooth wrinkles, add density and relax the skin. Cannabis Sativa Cell Cultures and Turmeric Cell Cultures help to visibly diminish the signs of fatigue, anxiety, and stress; specifically targeting deep stress wrinkles.
Scented with Ayuna's Beautifulness Cocktail of natural aromatic essential oils, including chamomile, rosemary and buchu, Cream III will send you on your way to visibly nourished and lusciously supple skin.
Apply over the face, neck and décolletage, gently massaging until fully absorbed. The formula adapts to the circadian rhythms of the skin, acting as a perfect makeup primer or protective shield during the day, while enhancing the skin's natural repair and restore functions at night.
Perfect for Dry and / or sensitive skin types.
---
By Natalie Kingsley-Fieldgrass
---
FOLLOW OUR INSTAGRAM FOR MORE CONTENT