"I've heard that the Lotion P50 is amazing, tell me about it" – one of the most common discussions that we have with clients here at the Embassy of Beauty is regarding our cult exfoliating lotions – the Biologique Recherche Lotion P50 range.
Often, beauty enthusiasts will have heard it being lauded as a must-have in magazines - it's known as the best worldwide and has even been dubbed 'a facial in a bottle.'
It's true, it is a pretty special product. Here are some of the wonderful benefits that leave your skin fresh and glowing:
The hydroxy acids work to eliminate dead skin cells and impurities, making it a powerful exfoliant

Helps to balance the skin by regulating the pH levels

Tightens pores, making their appearance less visible

Regulates sebum production

Hydrates, purifies and strengthens the skin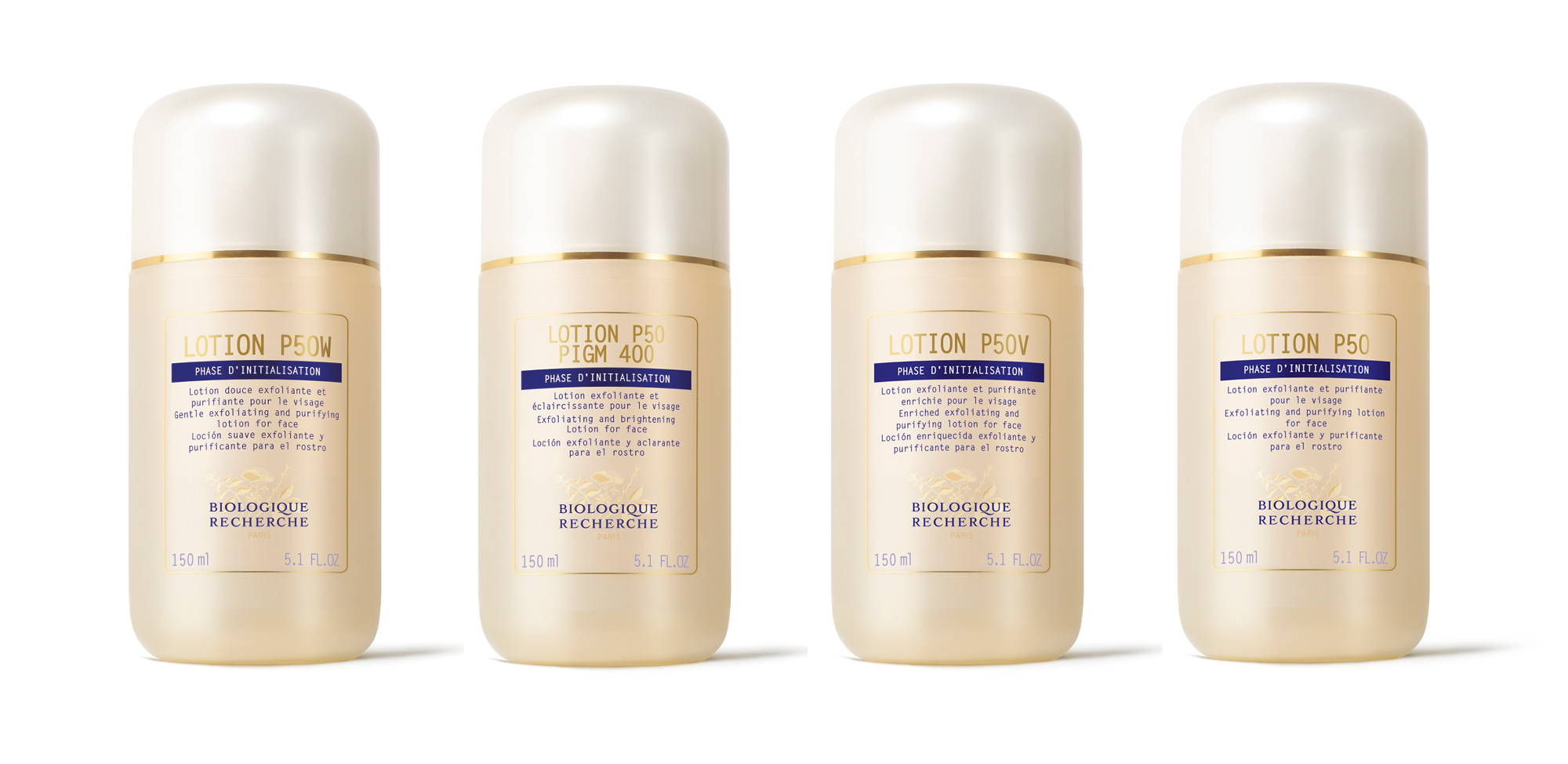 "What's all the hype about?"
This is a product that's really earned its stripes in skincare circles. It was first developed back in 1970 by the founder of Biologique Recherche Yvan Allouche. The innovative chemist created these progressive lotions to facilitate a gentle but powerful daily exfoliation.
Biologique Recherche products are centered around epidermal reconditioning, and the name of this product is derived from "P" for peeling and "50" because it takes two epidermal cycles, lasting 25 days on average, to achieve the first level of epidermal reconditioning required to purify the skin.
Because of the acidic pH of the lotions, they are multi-functional as they combine the benefits of a purifying, exfoliating, moisturising and toning lotion and help reconstitute the skin's shield.
Exfoliation is a natural phenomenon during which the skin eliminates its dead cells – sometimes (particularly with age) this natural process slows down.
Boosting exfoliation is a technique commonly practiced in dermatology and cosmetics, which involves removing the outer layers of the epidermis.
The number of layers removed varies depending on the techniques used and happens within a matter of hours. The skin then repairs itself by secreting fatty acids and cholesterol to cover the exfoliated area, after which skin cells multiply to replace the eliminated layer.
The skin appears illuminated, smoothed and free of impurities.
"Pass me the strongest one…"
Skincare just isn't as simple as using the strongest products you can get your hands on, we are far more advanced than we have ever been before. Biologique Recherche have spent over 40 years perfecting and developing four versions of the lotion, so that you can enjoy the benefits of daily exfoliation, but personalise your results, as you would with your cleanser, serum or cream.
It's a myth that we are constantly busting when we talk to clients at EB that you need to use the strongest Lotion P50 to get the best results. Each of the Lotion P50 range is packed with powerful ingredients to exfoliate and recondition the skin, but each lotion has been specially formulated for a different skin. For example, the Lotion P50 is designed for thicker, keratinised skin, where the lotion has to penetrate through the skin a little bit harder and faster to deliver results. The Lotion P50W is designed for normal skin, which benefits from a gentle daily exfoliation. It is designed to be used daily and so choosing the right one for your skin will deliver results in the long run.
This is the most popular formula, as it is most suitable for normal skin, so is suitable for the majority of skins. The powerful formula is injected with arnica, which has a soothing effect whilst still brightening and evening the complexion.
Arnica has anti-inflammatory and healing properties, making it a choice ingredient in cosmetics as a soothing and protective agent. It also has Natural Moisturising Factors which help capture water and hydrate the upper layers of the skin.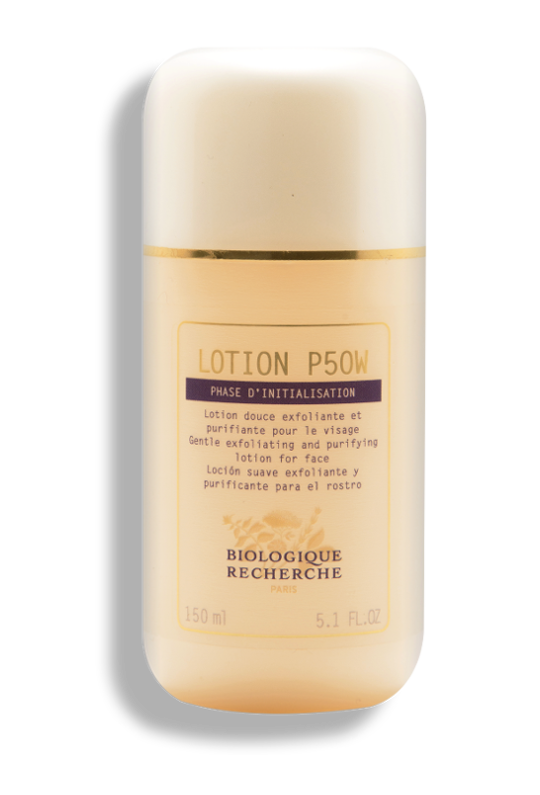 SHOP HERE
The one for FOR LEATHERY KERATINISED SKIN
The Biologique Recherche Lotion P50 is the strongest form of P50. It contains active ingredients such as thyme essential oil and myrrh for their purifying, toning, and antiseptic properties, and is specifically formulated for thick or keratinised skin that needs a little more power to infiltrate the layers of the skin.
SHOP HERE
The one for devitalised or mature skin
The Lotion P50V is perfect for devitalised and mature skin, leaving it smoother, softer and more radiant. Enriched with an injection of added vitamins and soothing and toning walnut extracts, it reveals a radiant skin whilst hydrating and nourishing.
It has added yeast in this formula, which is used in skin care products for mature skin as it is made up of mineral salts, carbohydrates, lipids and vitamins to firm and smooth the skin.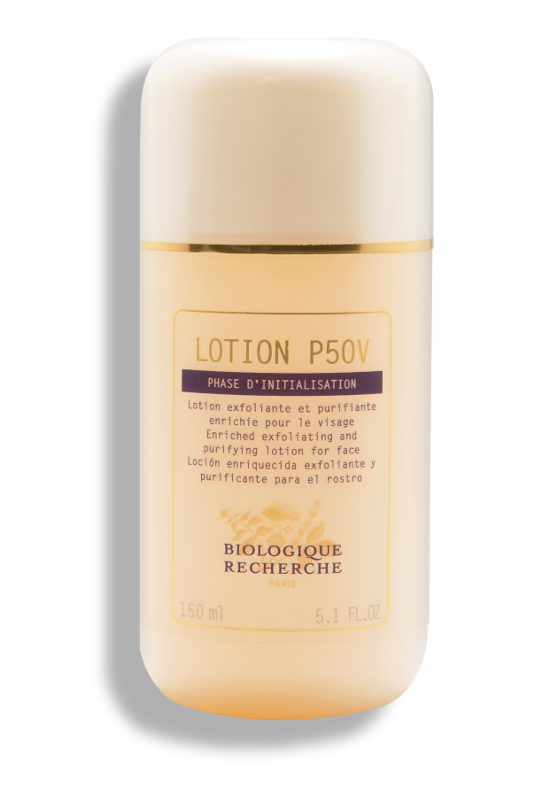 SHOP HERE
The one THAT TARGETS PIGMENTATION
As featured by India Knight in The Sunday Times Style Magazine earlier this year, the Biologique Recherche Lotion P50 PIGM 400 tackles pigmentation. It's enriched with both the exfoliating active ingredients of the Lotion P50 and the brightening agents and antioxidants of the PIGM400 range. It helps you to unveil a luminous and radiant skin with an even and lightened complexion.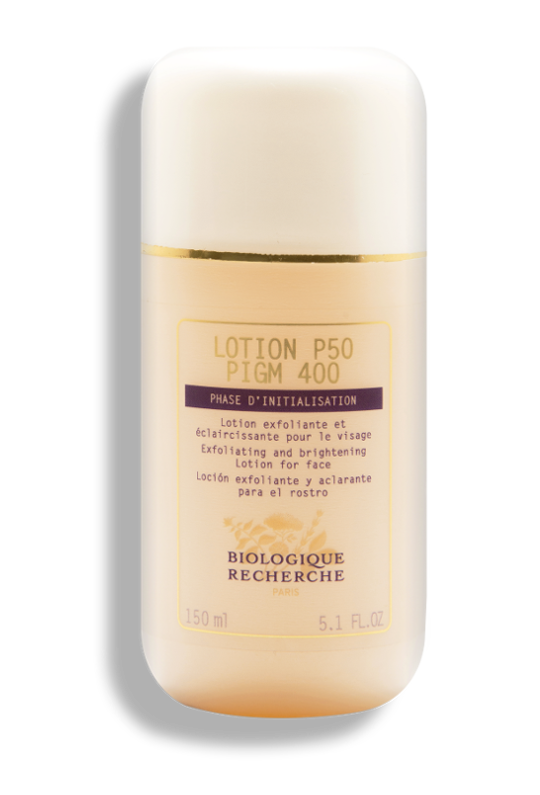 SHOP HERE
Alpha Hydroxy Acids (AHAs): Malic Acid, Citric Acid, Lactic Acid
The activity of Alpha Hydroxy Acids depends on their concentration and pH. The acid ratio contributes to exfoliation; the ratio of salts, which is lower, hydrate the skin – the Lotion P50 range does both.
This ingredient is the one that gives the lotion its distinctive smell. The tannin gives it purifying and astringent properties, and it's rich in fruit acids which regenerate the skin.
Beta Hydroxy Acid (BHA): Salicylic acid
Salicylic Acid can penetrate through pores and dissolve dead cells that are obstructing them. Its exfoliating action helps smooth facial skin and stimulate skin cell renewal.
This acid penetrates less than AHAs. It therefore gently removes dead cells from the skin's surface.
Niacinamide has anti-inflammatory properties which help combat acne problems.
With great power comes great responsibility, so let's run through our top five tips for getting the most out of your Lotion P50.
Use your Lotion P50 after your cleanser and before using serums or creams.
During the first two weeks of use, soak a dampened cotton pad with a few drops of your chosen Lotion P50 and dab it onto the face, neck and décolleté in upwards movements (without rubbing and avoiding the eye area). You will feel a slight tingling sensation, but no stinging or burning.
After a couple of weeks, switch to a dry cotton pad once you've established that your skin isn't sensitive to the lotion.
Don't use it alongside Retinol (Vitamin A)
Both Vitamin A (Retinol) and the chemical exfoliants in the Lotion P50 range stimulate cell renewal.
If you were to use them at the same time, it would lead to a host of problems, including sensitising your skin far too much, causing an imbalance or even burning the skin. We are often asked if over the counter (as opposed to prescription) retinol is OK to use at the same time – it's a no from us. Simplify your routine and stop using Retinol for two weeks before you enjoy your chosen Lotion P50.
Use the one that is right for you
As we've discussed, there are four personalised formulations to choose from – choose between the Lotion P50W, Lotion P50V, Lotion P50 PIGM 400 and Lotion P50 depending on your skin.
We are often asked for the Lotion P50 1970. This contains Phenol which is no longer in use in the UK and Europe, but the Lotion P50 is just as effective.
...And at the correct time of day
Acid exfoliants and the sun don't mix, as you want your skin to be protected from UV rays. We therefore recommend using the Lotions P50 in the evening over summer and wear SPF, and leave it at home when you're going somewhere hot – it will still be there when you get home from your holidays!
We hope that this article has cleared up any questions you have about the Biologique Recherche Lotion P50 range and helped you to choose which is best for you.
You can easily purchase your online by logging in and taking a quick (but thorough) Skin Analysis.